In my post reviewing the strength in the U.S. dollar index (DXY), I neglected to note a related weakening in the Mexican peso. On Friday, USD/MXN rallied into its 200-day moving average (DMA) and faded. Per my plan, I faded USD/MXN at the 200DMA. Much to my surprise, USD/MXN readily backed off 200DMA resistance. I decided to take quick (albeit small) profits as traders elsewhere were still bailing on other emerging market plays.
Today (Sunday), trading opened with USD/MXN popping right back to the 200DMA. I am going to try another fade but at a slightly higher point given the apparent higher risks. Moreover, I no longer have a long U.S. dollar position to hedge, so my short USD/MXN position size will be very small to start! (As a reminder, a plunge in the euro (FXE) drove a big breakout in the U.S. dollar index. I do not want to chase that move to start my next phase of dollar longs. I am now patiently waiting for a pullback in the dollar).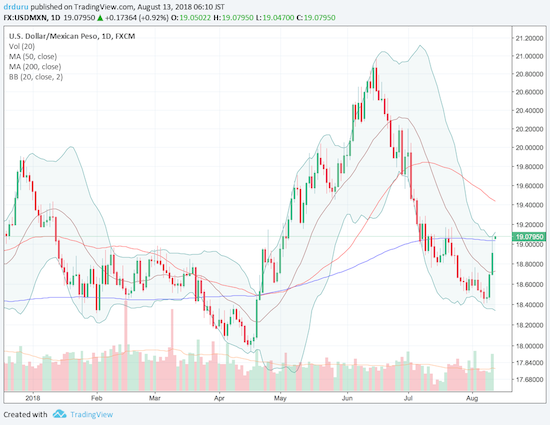 Source: TradingView.com
Be careful out there!
Full disclosure: no positions