Another day, another Amazon.com (AMZN) panic…
"Sears Auto Centers…announced today that it is working with Amazon.com to provide full-service tire installation and balancing for customers who purchase any brand of tires on Amazon.com. The service will be rolling out to customers across the U.S. over the coming weeks.

With this collaboration, Sears Auto will become the first nationwide auto service center to offer Amazon.com customers the convenient Ship-to-Store tire solution integrated into the Amazon.com checkout process…no matter what brand of tire is purchased on Amazon.com, Sears Auto Center's 2,100 highly-skilled technicians will provide installation and conduct a free multi-point Performance Snapshot on the vehicle to ensure 100% customer satisfaction." – from Sears Holding press release, May 9, 2018.
Traders immediately sought to punish any stock caught in the wake of this announcement. The Sears news was reminiscent of rumors in January, 2017 that AMZN would enter the auto parts market, and stocks like Autozone (AZO) and O'reilly Automotive (ORLY) dropped sharply 2.7% and 2.6% respectively. Yet, the final tally was different than other AMZN panics. Most of the stocks snared in the headlines recovered quickly and completely…the same day of the initial panic.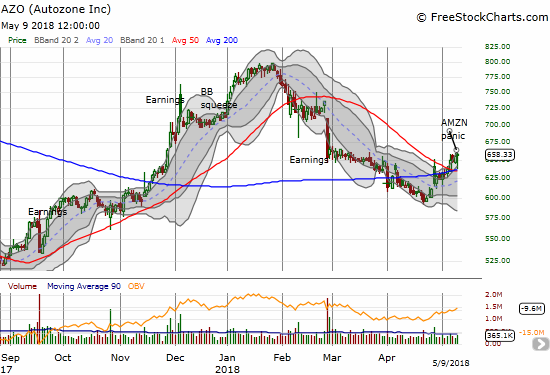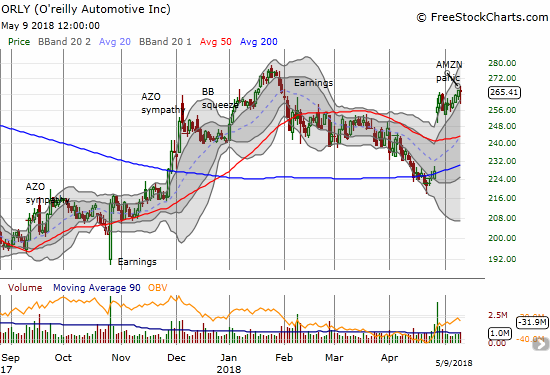 The technicals won over panic in these stocks. AZO turned in a picture-perfect test of 50 and 200-day moving average (DMA) trend lines. I was too slow to enter a fresh trade (with call options) as I had planned if AZO dipped again ahead of earnings. ORLY demonstrated that the strength of its last earnings report still holds sway over traders and investors. The stock's rebound did not quite result in a gain for the day, but the steady move higher remains intact. ORLY still looks on track to challenge its 2018 high.
Monro (MNRO) was not so lucky. Buyers only tentatively stepped into MNRO after the stock pushed through its 200DMA support. The 50DMA support barely slowed down the sellers. MNRO lost 7.8% and is now about 5% above where it closed after October earnings. Note that $50.26 level held as support during the February sell-off.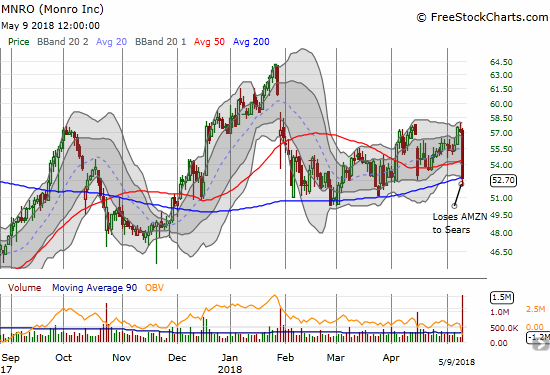 Source of charts: FreeStockCharts.com
MNRO weighed heavily because the company was supposedly the anointed one for AMZN's ambitions to distribute tires . On October 24, 2017, during a morning earnings conference call, CEO Brett Ponton announced that his company was talking to AMZN about a tire installation partnership. MNRO gapped down steeply from the open and rallied enough for a flat close. Yet, the stock never closed higher until more than a month later. In other words, it seems doubtful that the market was all that excited by the potential deal. The contrast intrigued me enough to take a flyer on call options as a bet the stock will recover (or start to recover) in the next week.
The MNRO sellers must have rushed to Sears Holding (SHLD) as that stock gained 15.9% for the day. It was up as much as 25% at the intraday high. The fade was an echo back to July 20, 2017 when SHLD announced a deal with AMZN to sell Kenmore Appliances. The stock popped, faded, and the sellers kept on pushing the stock down from there. SHLD is down a whopping 66.7% since that announcement. In this latest announcement, SHLD talked of DieHard products AMZN added to its site in December and February. I duly noted that AMZN also sells Monroe auto parts
. Something tells me that another AMZN panic is due to expire.
Be careful out there!
Full disclosure: long AMZN calendar call spread, long MNRO calls