When it comes to insider transactions, I only pay attention to the purchases and sales of company executives – the CEO and CFO in particular.
According to an SEC filing on December 6, 2017, CFO Alan R. Stewart purchased 3,000 shares at the price of $13.53. This additional $40,590 investment is a notable vote of confidence given the imminent expiration of SSTI's post-IPO lockup period. More importantly, the purchase carries a double significance ahead of the company's participation in the 14th Annual Imperial Capital Security Investor Conference on December 7, 2017 in New York. Firstly, given SEC rules on insider transactions, the purchase suggests that the company will not have any materially new news to release at the conference. Secondly, there is not likely any bad news coming form the company anytime soon.
Indeed, the company released some GOOD news today (presumably before the CFO loaded up on shares). SSTI announced that the Fall River Police Chief committed his department to seek funding for a deployment of the ShotSpotter system. SSTI allowed Fall River to use the system free of charge apparently to get more time to demonstrate the value of the system. When I learned of this deal, I wondered why SSTI did not discuss this strategy in its last earnings call. The news release did not explicitly reference the free trial period but at least the company is officially on the road to sealing a deal. This news of course does not guarantee that Fall River will ultimately succeed in securing funding. It is also not clear whether SSTI's bullish guidance for 2018 includes expectations for signing Fall River.
Regardless, the CFO purchase gives me a lot more confidence to withstand whatever may come from a bear raid that was recently launched against SSTI. I will once again build up a long position over time.
In other news, SSTI also filed an 8K with the SEC announcing that ORIX Finance Equity Investors net exercised warrants to purchase 129,153 shares of stock. Orix is a Japanese financial services company which last year established a private equity fund in the U.S. to do deals ranging from $200 to $300M (debt plus equity). Per SSTI's S-1 filing for its IPO, Orix established a $10.0M loan agreement with SSTI and the following warrant:
"As of March 31, 2017, warrants to purchase an aggregate of 756,731 shares of our Series B-1 preferred stock at a weighted-average exercise price of $4.6859 per share were outstanding. The warrants contain a provision for the adjustment of the exercise price and the number of shares issuable upon the exercise of the applicable warrant in the event of certain stock dividends, stock splits, reorganizations, reclassifications and consolidations. One of the warrants described above was issued to Orix Growth Capital LLC in connection with the amendment to our debt facility and is exercisable for 76,704 shares of Series B-1 preferred stock (reflected in the number above). However, if we complete this offering prior to September 30, 2017 and in this offering we raise at least $25.0 million in net proceeds (after deducting underwriting discounts but before transaction expenses), the number of shares issuable under that warrant will automatically reduce from 76,704 shares to 61,363 shares."
SSTI also issued warrants to Orix to buy 173,862 shares of Series B-1 preferred stock in September, 2015.
I suspect Orix will turn around and sell these shares with the IPO lockup expiring. Since SSTI trading volume averages just over 100,000 shares, large insider sales on the open market should show up as trading surges and could generate some fresh buy-the-dip opportunities.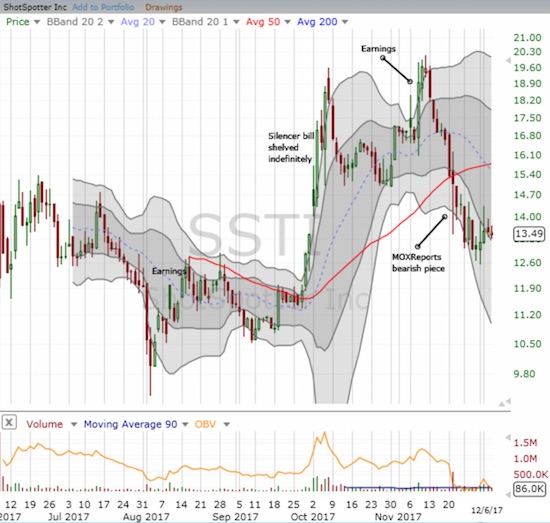 Source: FreeStockCharts.com
The above chart shows that SSTI remains in a bearish technical position after its breakdown below support at its 50-day moving average (DMA). I will gain even more confidence in the stock once it re-establishes that trendline as support. Note the 20DMA is now in decline.
Be careful out there!
Full disclosure: no positions