In recent days I wrote about the British pound (FXB) and the Mexican peso. In both posts, I pointed out to resistance levels versus the U.S. dollar: GBP/USD and USD/MXN. In both cases, those resistance levels held.
In the case of the pound, the technicals held against major fundamental news: the Bank of England (BoE) actually hiked rates to reverse last year's post-Brexit emergency cut. Yet, it seems the market was majorly disappointed with the snail's pace of rate hikes outlined by Governor Mark Carney. In coming days, I will write in more detail about my takeaways from this apparent turning point.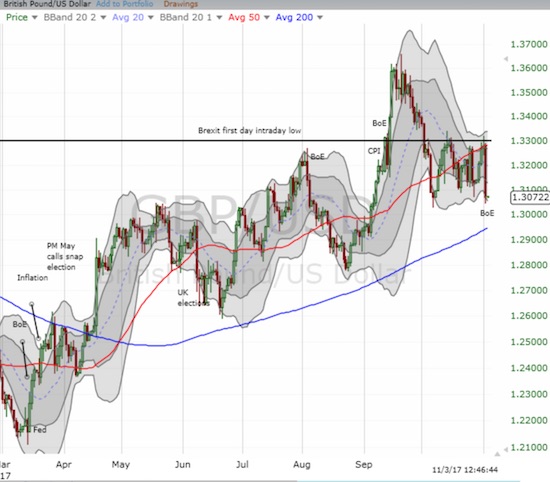 In the case of the Mexican peso, the technicals provided successful resistance even as the U.S. dollar index held relatively steady. I point this out to recommend that traders with the shortest timeframes take profits here. I am continuing to hold and even anticipate a fresh slide in the dollar after the Fed (presumably) hikes rates next month.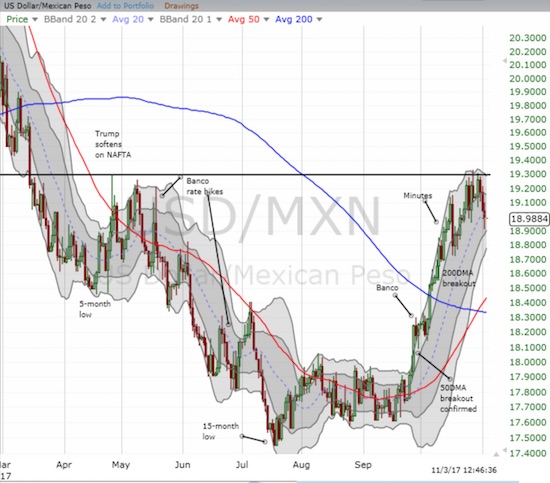 Source for charts: FreeStockCharts.com
The next potential turning point for the U.S. dollar comes in the form of the U.S. jobs number for October. Economists are apparently projecting a major post-hurricane rebound, so expectations are very high. The dollar likely only has downside risk, especially after it barely budged in the wake of the well-anticipated announcement by President Trump of Jerome Powell, an Obama-era appointee to the U.S. Federal Reserve's board of governors, as the next chair of the Fed.
Be careful out there!
Full disclosure: long and short various pairs including the British pound and U.S. dollar, short USD/MXN