The Mexican peso is trading at levels last seen 10 months ago against the U.S. dollar (USD/MXN).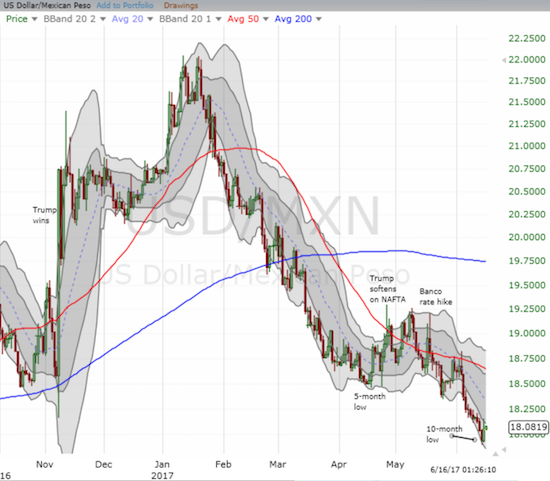 Source: FreeStockCharts.com
The rate hike from the Federal Reserve yesterday, along with an official launch of the Fed's effort to reduce the size of its balance sheet, helped USD/MXN rally. Normally, I would fade USD/MXN here at the top of the short-term downtrend. However, I am still assessing the market's reaction to the news about the balance sheet reduction. Moreover, Banco de Mexico meets next week, June 22nd. I am looking for Banco de Mexico to keep pace with the Federal Reserve's rate hike. If it does not, USD/MXN will likely rally quite a bit further from current levels (on top of whatever adjustment is occurring to account for the launch of balance sheet reduction).
In the meantime, speculators remain enthusiastic for the Mexican peso. At least last week, speculators accumulated net longs to a new 3-year high.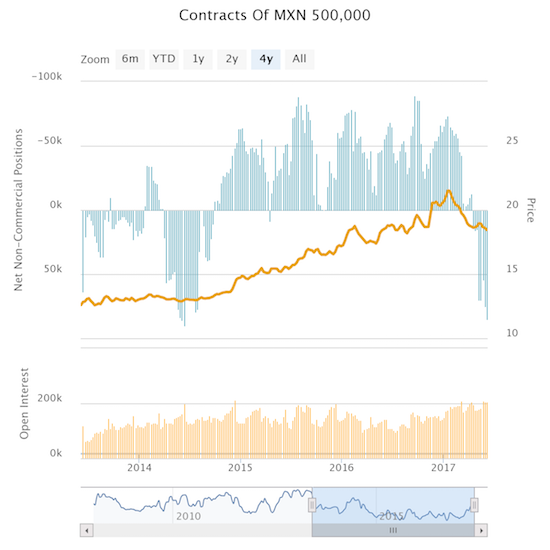 Source: Oanda's CFTC's Commitments of Traders
Note that speculators were even more bullish on the Mexican peso from 2010 to 2013 so there is plenty of room left to run before reaching "maximum bullishness." Next up will be to see how speculators react to the Fed and then Banco de Mexico.
With an overnight interest rate target at 6.75% the Mexican peso is also still a great carry trade. I am just a little more cautious and more motivated to be patient for the next entry given the fundamental backdrop may be shifting slightly.
Be careful out there!
Full disclosure: no position