So it was true after all. Restaurant Brands (QSR) was indeed drooling over the secret recipes of Popeyes Louisiana Kitchen (PLKI). Today, PLKI soared 19.1% to $78.73/share and a $1.6B market cap, just short of the $79 ($1.8B market cap) that QSR promised to pay for acquiring PLKI.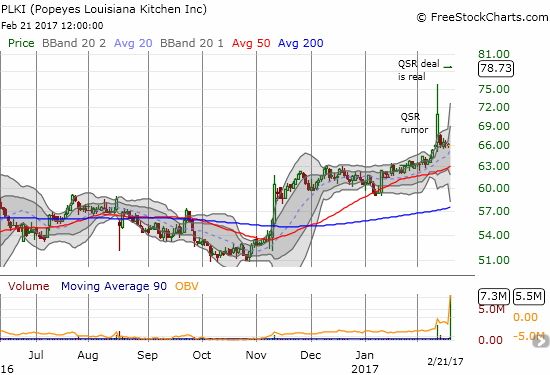 When I discussed the merits of a QSR for PLKI deal, I proposed a pairs trade going short both names. After PLKI reversed all of its gains from the first buyout rumor, I also reversed course and bought PLKI shares. It is better to be lucky than good. While I essentially nailed my guesstimate of a $1.7B buyout valuation for PLKI, a different order of events would have left me with a small loss instead of a nice net gain (yes, timing IS everything!). The rumors of QSR souring on a deal gave me the price swings I needed.
I also thought QSR would pull back on a deal for PLKI. Instead, QSR gained another 6.9% to a new post-earnings and all-time high. Clearly the market thinks of this deal as highly accretive to QSR's business (the key will be in international expansion).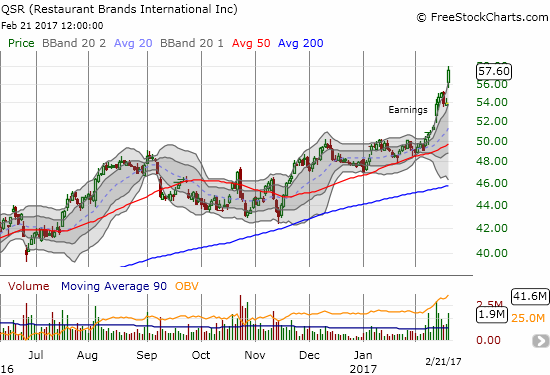 My QSR puts are of course worthless now. I closed out my PLKI position and took profits – I do not find waiting for the extra $1.27/share to come at the closing of this deal worth the downside risks of this deal somehow going awry.
This rapid turn of events now leaves El Pollo Loco (LOCO) as my "last chicken" standing. I am staying long shares per my discussion in "Another Chicken Run for Restaurant Brands With El Pollo Loco Rumors." While I doubt QSR will next buy LOCO, I think this deal puts chicken joints in play and cheap, well-established restaurants in play generally. Under these circumstances, LOCO is simply too cheap to ignore as a good risk/reward speculation. While I wait for a fresh catalyst, I will keep a core position and look to play, if possible, the now 18-month long trading range and consolidation period.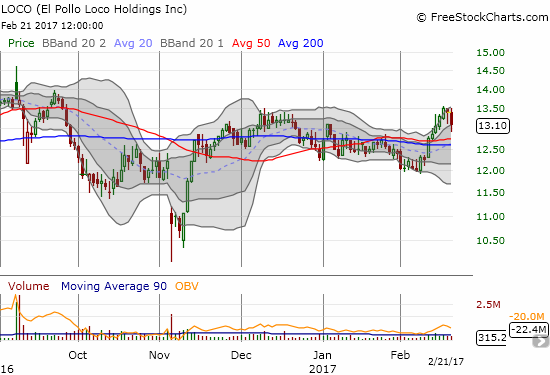 Source: FreeStockCharts.com
Full disclosure: long LOCO