I have made two cases for sticking with Marvell Technology (MRVL). On December 19, 2012, I wrote "Marvell Technology Continues Fighting Its Downtrend By Increasing Stock Repurchases" suggesting that the time was drawing near for a payoff on all the billions MRVL has spent buying back its shares. I liked the buybacks combined with a low valuation and a technical outlook that suggested MRVL had bottomed. Just a week later, I found myself writing "Loss In Patent Case Turns Marvell Technology Into Dead Money" to explain how MRVL's huge loss in court was going to stall shares until the next ruling in May. I refused to join the panic-selling that took MRVL down 10% in the wake of the news.
Since then, MRVL has managed to trade upward for 10 straight days after one more day of follow-through selling. This buying has occurred on strong volume. The buying has been so persistent that MRVL has reversed the entire loss from the patent news.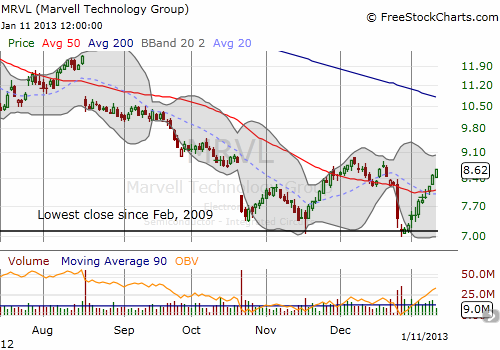 Source: FreeStockCharts.com
The bounce is impressive on its own. This bounce has also taken the stock through resistance at the 50DMA for the second time in six weeks. Before the patent loss, MRVL had bounced off the 50DMA as support, giving me confidence in a bottom then. The ability to return to those levels after such bad news suggests motivated sellers may have finally shaken free from the stock. The open interest put/call ratio further underlines the more bullish technicals. According to Schaeffer's Investment Research, traders not only bought the sell-off, they also continued to favor calls over puts right through the sell-off.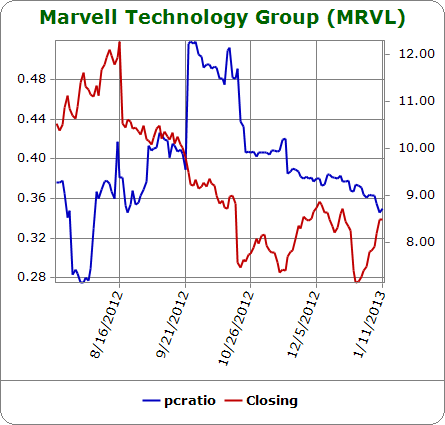 Source: Schaeffer's Investment Research
So, all things considered, I am sticking with MRVL. I think the case for a bottom in the stock got a lot stronger thanks to the bullish response to the patent news. Note carefully that the stock is far from free and clear: the 200DMA looms overhead carrying the longer-term downtrend. I also continue to believe that MRVL will have a hard time making much more progress until a positive resolution comes in the patent case.
Be careful out there!
Full disclosure: long MRVL