One month ago, Polycom (PLCM) dropped 10% seemingly out of nowhere on relatively high volume. On April 5, PLCM dropped 20% in the wake of an earnings warning in which the company stated their "…growth rate was below our overall expectations, driven primarily by shortfalls in Asia Pacific and North America." On a GAAP basis, PLCM expects earnings per share last quarter to plunge from last year's $0.19 to $0.07 to $0.09 this year. So perhaps last month's stock drop was the first warning.
Click for a larger image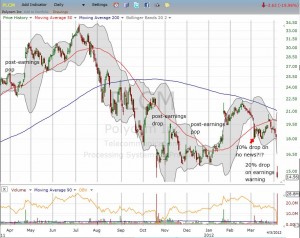 The chart above shows that wild earnings-related swings have become the norm for PLCM, and the 200-day moving average (DMA) has neatly capped the stock. I have been looking for an opportunity to start building a position in PLCM and decided to make the leap. Most interesting about the close at 18-month lows is that PLCM has returned to a critical breakout point from 2010.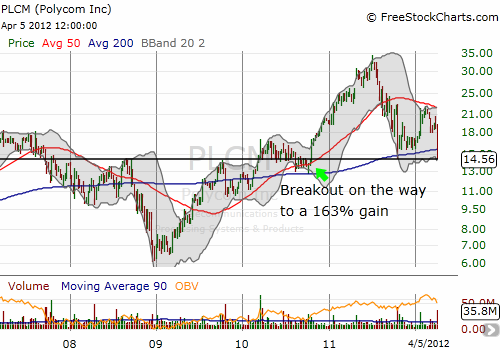 I do not expect a swift recovery from the wipe-out of such long-term gains. Since PLCM is a fundamentally sound company, I am willing to be patient…and even build a larger position.
Be careful out there!
Full disclosure: long PLCM shares and calls