Near the end of the last oversold period toward the end of June, I identified three stocks that I claimed had to hold support to maintain a bullish outlook for the stock market for various reasons: Proctor & Gamble (PG), Clorox (CLX), and Oracle (ORCL). I titled that piece "Chart Review: These Giants Must Not Fall – PG, CLX, and ORCL." All three stocks bounced nicely from support levels, but all three are signaling trouble now. With the stock market scraping at oversold levels again, I thought this would be an appropriate time to quickly review these charts again.
Proctor & Gamble (PG) rallied for five days from June's oversold levels before hitting resistance right at the 50-day moving average (DMA). After churning there for most of July, PG finally gave in to the market swoon with a breakdown on July 25. Since PG has gone nowhere in two years, it is not yet time to say PG has broken down. The two-year support line is at $59 and still 3% away. But the stock is getting too close for comfort.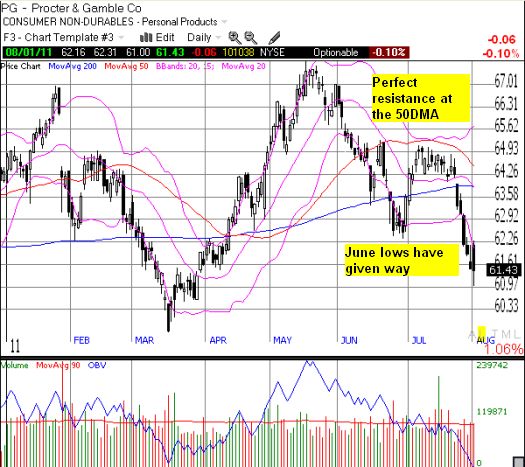 Clorox (CLX) has become a special case given Carl Icahn's two attempts to takeover the company (confirming rumors from February that sent the stock up 7.6% in one day). CLX rejected both offers; the latest valued the company at $80 in cash. I find it odd that the market has not seen fit to value the company anywhere close to where Icahn thinks it should be. Perhaps it is "free money" for those paying attention? Regardless, CLX remains in a bullish position and a strong uptrend since the March 2009 lows that has taken the stock to new all-time highs.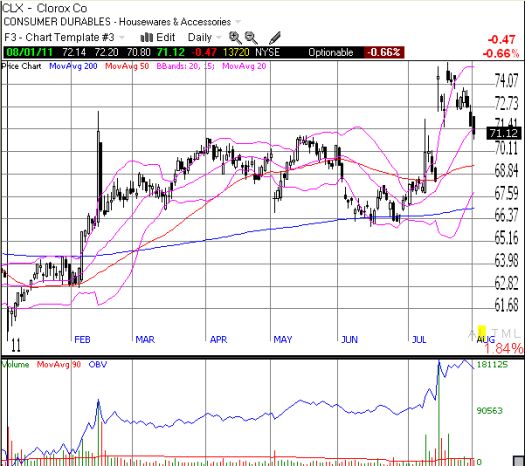 Oracle (ORCL) is a stock to cause concern – a true falling giant. The stock's bounce from the June lows began in earnest after it reported earnings June 24th. ORCL even had two strong closes above its 50DMA in July. It has been all downhill from there with ORCL finishing the day at a new closing low for 2011. Overhead resistance looms with declining 50 and 200DMAs. The outlook for ORCL is very bearish here, and this cannot be a good sign for tech in general.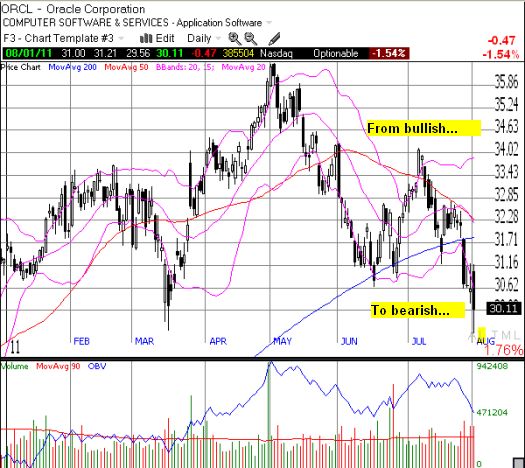 *All charts created using TeleChart

Be careful out there!
Full disclosure: long PG and CLX