2011 has been a rough year for Google (GOOG) as the stock continues to underperform relative to the S&P 500. GOOG is down 14% year-to-date while the S&P 500 is up 6.5%. I was premature in mid-May speculating that GOOG had finally reached some kind of bottom in the wake of its bond-offering. However, a 10% surge in just the past week has punched the stock right back to those levels. This surge also validated my choice of GOOG as one of several plays for a bounce from oversold conditions (sold my last positions into Friday's 3% one-day blast).
(Click to enlarge graphic)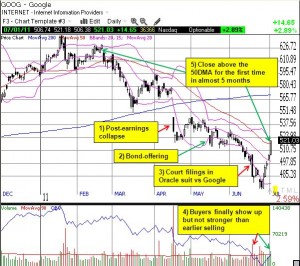 *Chart created using TeleChart

The most encouraging features of GOOG's current chart are the break above the 50DMA and the appearance of stronger buying volume. Like most of the stock market, GOOG is now overbought, so I could only recommend a trade on the next dip. If GOOG manages to break below the recent low, the stock will re-enter extremely bearish terrirtory.
Be careful out there!
Full disclosure: no positions