(This is an excerpt from an article I published on Seeking Alpha. Click here to read the entire piece.)
Even as the market grinds lower in the current correction phase and solar stocks get slammed, GT Solar (SOLR) has stood out. Today, SOLR made new 2 1/2 year highs on the announcement of its latest orders win. Surprisingly, this latest order is for polysilicon equipment…
{snip}
…SOLR has surpassed my previous upper valuation target of $11.50. On the May 10th news, I decided to hold my position. After the May 16th announcement, I decided it is time to revise my upper valuation target. I will do so after earnings are announced on May 24th. I am very bullish going into that announcement.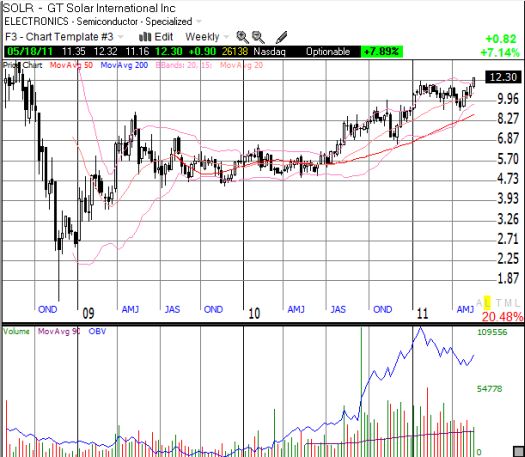 (Intra-day snapshot)
*Chart created using TeleChart:

Be careful out there!
(This is an excerpt from an article I published on Seeking Alpha. Click here to read the entire piece.)
Full disclosure: long SOLR