Last week, CNBC interviewed Visa (V) CEO and Chairman Joseph Saunders. The title "Building the Digital Wallet" caught my attention because I am invested in Blaze Mobile, a start-up whose main product, Blaze Mobile Wallet, enables mobile payments, banking, and ticketing. Visa invested in mobile payment start-up Square in April, 2011, and the company's plan to introduce a mobile wallet service in the U.S. and Canada this fall is a major endorsement of this mobile technology and the service.
Saunders explains Visa's digital wallet takes traditional ecommerce with Visa's point-of-sale business and makes it all interoperable. Consumers can make purchases with the wave of a phone as long as there is a compatible terminal. Visa has developed a seamless environment that connects the technology of mobile and ecommerce with Visa's infrastructure. Consumers just need one click and a password to access products on the internet, make gaming purchases from a social network, use a plastic card with magnetic stripe, use a phone with an enabling chip, or buy on the internet with a PC.
Apparently, AT&T and T-Mobile had planned to start their own rival network but may join Visa instead (AT&T partially blames regulation that limits fees the company could collect on mobile transactions). Saunders suggested they found it hard to replicate Visa's infrastructure from point-of-sale to the customer. There are a lot of nuances involved in handling these transactions around the world, 24 hours a day.
Mobile transactions are sure to represent a rapidly growing segment of commerce. CNBC did not note that the technology to enable these transactions is not brand new. Blaze Mobile has been around for many years now (I invested in 2005) and continues to introduce many innovative products and services that allow consumers to integrate mobile transactions across financial institutions. I think there will be more acquisitions in this space, and companies that continue to innovate with mobile wallet technologies will experience rapid growth in the years ahead.
Here is an example of how this technology works using Blaze Mobile Wallet: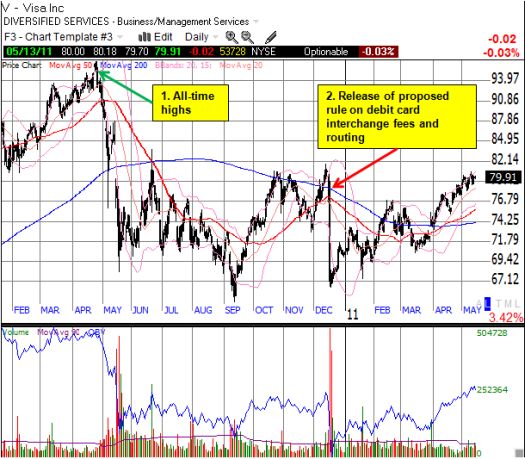 *All charts created using TeleChart:

Be careful out there!
Full disclosure: invested in Blaze Mobile