A week ago I used F5 Networks (FFIV) as a model to suggest that Finisar (FNSR) and JDS Uniphase (JDSU) showed some promise to bounce from critical support levels. I drew out the specific price points at which buys made sense and included some stops. The promise quickly led to a letdown as both FNSR and JDSU crossed their respective buy points but failed to close above the trigger points.
For each stock, these failures immediately turned into breakdowns below critical support. This trading action converts the bullish promise of a bounce into a bearish threat of further downside. The charts below summarize the current setups: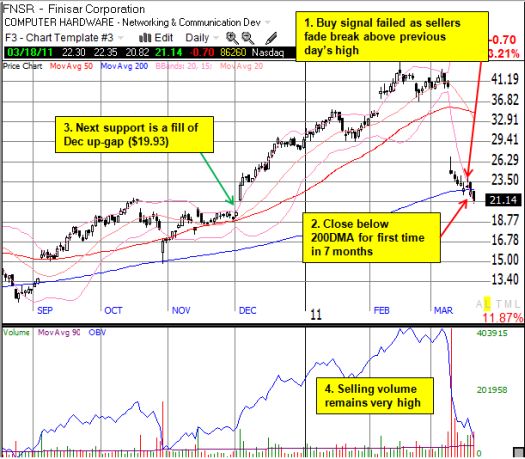 Notice that both stocks are stretching into up-gaps that previously flagged very bullish sentiments. As FNSR and JDSU wipe out the gains of anyone buying on those breakouts, traders should watch for signs that buyers finally return. Further downside below these gaps will confirm sustained bearish technical outlooks.
Other optical stocks following through on breakdowns include Ciena (CIEN), Oclaro Incorporated (OCLR), Opnext (OPXT), and Exfo Electro-Optical Engineering (EXFO). Oplink Communications (OPLK) managed to bounce off its 200DMA on Friday, and Emcore Corporation (EMKR) bounced strongly off its 50DMA.
And what of F5 Networks (FFIV), the stock served as model for the previous bullish trading strategy? Unfortunately, FFIV suffered perhaps the most dramatic breakdown last week. On Friday, FFIV dropped 6% and moved below very critical support levels in one swift move.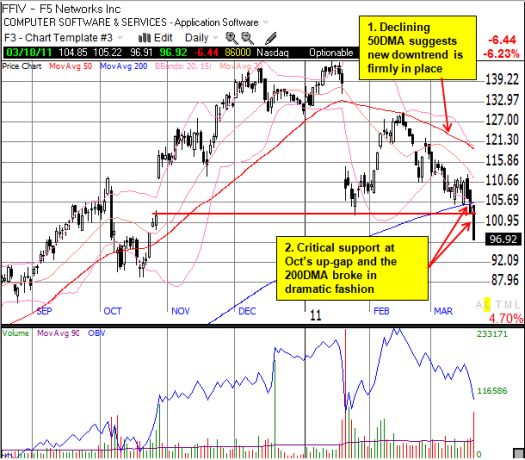 *All charts created using TeleChart:

FNSR, JDSU, and FFIV are still many multiples higher than their March, 2009 lows, 11x, 8x, and 5x respectively. So, the current declines are almost blips on the radar compared to the overall two-year move. However, that accomplishment can generate a false sense of comfort as big shareholders and institutional owners continue to dump stock hand over fist (this is most apparent in the selling volume and distribution in FNSR and JDSU). I can only assume that the next possible positive catalyst will be earnings next month where a lot of nervous and anxious attention will be quite focused.
Be careful out there!
Full disclosure: no positions