On Monday, Goldman Sachs added First Solar (FSLR) to its conviction buy list with a $165 price target. The market's response was swift with FSLR ending the day up 6% and a closing price of $156.40. I wish I had received the memo because I sold off the last of my FSLR positions on Friday.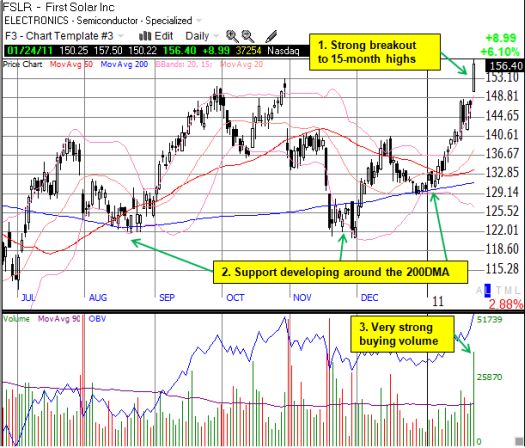 *Chart created using TeleChart:

After FSLR provided earnings guidance last month, I set my own price targets on FSLR:
"If we assume that the market in its most giddy mood will pay no more than a 17 forward P/E for FSLR, then that generates a $162 upper price target. That price target neatly coincides with the highs from the fall of 2009. If we assume that the market in its most cantankerous mood could drop FSLR to a 12 P/E (highly unlikely in my opinion), then that generates a $105 downside risk. This target low neatly coincides with a floor for FSLR that has endured for over three years. I think the most likely range is $120-150 until a new catalyst arrives to move the stock."
I will count Goldman as a fresh catalyst. However, the stock is now only 6% within Goldman's target (and within 4% of my presumed valuation top), the risk/reward for fresh purchases seems pretty poor here. The good news is that this upgrade uncorked additional pent-up demand for solar shares that sent stocks throughout the sector soaring.
For a somewhat ironic reference, I have posted a CNBC segment from Friday with Herb Greenberg hosting a bull vs bear discussion on solar. The solar bull, Jeff Osborne, Managing Director at Stifel Nicolaus, was far from a raging bull. Osborne offered up Ja Solar (JASO) as a recommended sell, and he timidly offered up GT Solar (SOLR), Satcon (SATC), and FSLR as his buy recommendations (see my SOLR commentary here).
Gordon Johnson, from Axiom Capital, is a longtime bear and makes a basic supply versus demand argument: PV production capacity will go from 20GW to 40GW this year while demand will increase at most from 15 to 18GW (First Solar assumed 15GW demand for 2011 which matches the projections back in May from the European Photovoltaic Industry Association). Greenberg was looking for a head-to-head fight and tried to generate one over First Solar.
Be careful out there!
Full disclosure: no positions (my last solar positions are long JKS, ESLR, SPWRA, and WFR – reminder: I maintain no interest in shorting solar stocks. This stance began last February with First Solar.)