NOW I better understand Wunderlich Securities's bullish case for GT Solar (SOLR).
When I wrote December 1 about how diversification into sapphire crystallization systems (used in the manufacture of LED products) is paying dividends for SOLR, I noted my confusion over Wunderlich's reiteration of a buy rating on SOLR. That reiteration came at the same time Wunderlich provided a dour outlook for solar demand in 2011. Last Wednesday, SOLR soared 19% as Wunderlich essentially called the stock ridiculously cheap. As reported in TheStreet.com, Wunderlich analyst Theodore O'Neil had the following to say:
"'Investors should take a hard look at the unusual valuation of GT Solar (SOLR) stock relative to its peers. At the current valuation of 5.7x our 2011 EPS estimate of $1.37, an acquisition of GT Solar by almost any equipment company would be immediately accretive even at twice the price (assuming redundancies were eliminated).'

Likely acquirers of GT Solar, according to Wuderlich, are semiconductor or solar equipment makers. Amtech Systems(ASYS), Applied Materials(AMAT), BTUI(BTUI) and Novellus(NVLS).

Wunderlich argues that paying a 2x premium to the current GT Solar share price would still be accretive for the acquiring company."
I think that clarifies the bullish case from Wunderlich.
I figured this was as good a time as any to finally post my notes from SOLR's last earnings conference call (second quarter, fiscal year 2011) and earnings presentation on November 8, 2010. Overall, it was a bullish call that motivated me to put SOLR on my buy list. The market initially reacted by sending the stock to new 2-year highs. The stock proceeded to lose 34% from there before finding support at the 200-day moving average (DMA). The initial selling was likely partially triggered by a massive amount of insider selling: 132.5M shares the day before earnings and 35M shares on earnings day. I first bought SOLR as it tested its 50DMA in the middle of this correction. As it approached the 200DMA, I decided to wait before buying my second tranche. SOLR popped 15% the next day on the news of the sapphire equipment orders, and I never got my second chance (another lesson learned!).
Here are my notes from the earnings call and the earnings presentation organized roughly by themes:
Polysilicon and photovoltaic (PV) business
Pick-up in activity in the Middle East – potential for additional polysilicon investment remains high.
Mounting evidence of shortage in the marketplace; evidence coming from customers. Spot prices are starting to rise.
Price for 2-inch wafer cores has increased something like 3x in the past 6 months or so.
PV backlog extends well into FY12.
Although no signs yet, expect the order rate of PVs will slow down at some point and not recover until late FY12 or the following year.
Note well not expecting a PV slowdown, just planning around potential for one – it does not make sense that the current strong order rate will continue into FY12.
Sapphire business advanced faster than originally expected
Negotiations in China, Korea, and Taiwan will generate over $100M in Sapphire revenue. This milestone will come a year earlier than originally anticipated.
Over $400M in new order intake over past 4 quarters.
Increasing guidance because the ramp of the sapphire business is moving faster than expected.
Sapphire furnaces will sell at a higher price than DSS (Directional Solidification System) furnaces.
Expect Sapphire to add significant strength to the business – it will almost be a $200M business next year and provide a counter-cyclical buffer (me: this was a KEY feature attracting me to the stock).
Do not intend to diversify into becoming a materials business: in the long-term, expect sapphire materials business will become like the polysilicon materials business.
Currently significant price increases in the sapphire materials business.
SOLR will compete with customers if it goes into materials – customers have indicated they are afraid of equipment suppliers who compete with them on materials.
Competition and its impact
Competition is getting more aggressive in its attempts to regain lost market share.
The forecast for the balance of FY11, and FY12, is not based on maintaining and defending market share levels that are currently well above historical norms. Doing so would be impractical.
Speculation about the demise of GT Solar is highly exaggerated – such speculation may be coming from certain customers with whom GT Solar has decided to cease doing business – only want to deal with customers interested in high quality.
When competitors try to copy GT Solar products, company moves on to a new product to keep the competition off-balance.
Competitors have a new tactic of announcing new products that are still in development stage – SOLR only announces new products once they are fully developed and tested.
No competitors exist who can deliver sapphire volume to the market. There are some start-ups in Russia and North America, but customers say that SOLR's performance is far ahead.
Customer concentration
98% of all revenue comes from Asia.
One customer accounts for 60% of revenue and is the only customer with more than 10% share.
Over the course of FY12, expect no customer to be more than 25% of revenue.
Polysilicon backlog from 7 customers who have ordered $3M or more. 75% from 3 of the top 10 producers in the world.
PV backlog from 39 customers. Nearly all with Asian-based customers.
Share transactions
Shares outstanding reduced 17.6% with share repurchase.
Using some of $317M of unrestricted cash and investments (as of the Friday previous to earnings) to purchase shares.
GT Solar Holdings, LLC (private equity shareholders) sold 7M shares to another party and is now a "regular" shareholder.
These shares and the repurchased shares were released from the lock-up from the underwriters in the September secondary offering (me: at the time, I thought this event was dilutive, but the stock bottomed for the month on heavy volume).
The balance of the shares held by GT Solar Holdings, LLC after these transactions is approximately 17.6M shares and will remain subject to the lock-up agreement which expires Dec 9, 2010. (Me: seems to have passed without "incident" but still something to keep on the radar).
Upon completion of these transactions, Oaktree Capital Group Holdings GP, LLC will own approximately 9.6% of the company's outstanding shares, down from over 50% at the beginning of the calendar year. (Me: good news to see much less concentrated ownership and that the company was able to execute these transactions without damaging share price)
Not contemplating a standing repurchase agreement.
Miscellaneous financials
Have now exited the turnkey business (low margins).
Expect to continue increasing R&D expenditures.
Credit Suisse $200M debt financing allows SOLR to maintain flexibility.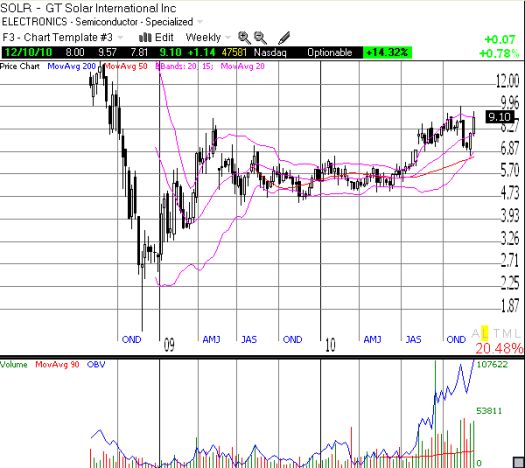 *Chart created using TeleChart:

Be careful out there!
Full disclosure: long SOLR