I have been reporting the breakout of U.S. Steel (X) on twitter since last week, so I thought I would quickly post a chart outlining the case and provide some additional commentary.
Like most steel stocks, U.S. Steel has lagged the S&P 500 for most of this year. The stock has churned in a wide range since May, consistently capped by upper resistance from the 200-day moving average (DMA). On December 1st, the stock broke above the 200DMA on average volume, creating a buy signal. The stock followed through on Monday – while the rest of the market was muted – with a 2.6% gain that finally put U.S. Steel above its August intraday high. Although volume has trailed off, it is starting to look like this rally could hold and survive a retest of the 200DMA.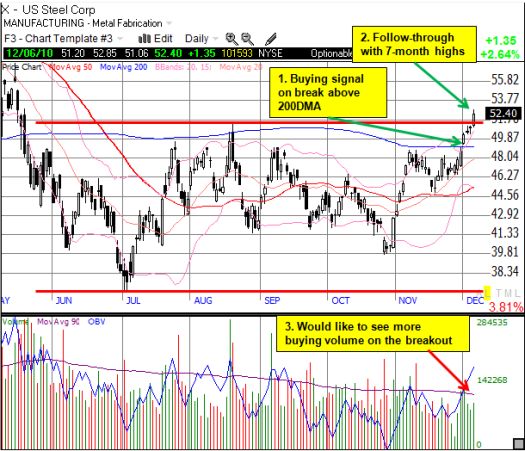 *Chart created using TeleChart:

I have followed steel stocks for quite some time, but over the current period of churn I have not had much to say (one notable exception is coverage of the numerous price increases from AK Steel on InflationWatch). I had expected steel stocks to be a sneaky and cheap way to play a general market rally. Perhaps this move on U.S. Steel is finally the big moment I have been awaiting.
(In other news of industry interest, Nucor Steel's vocal and activist leader, Dan DiMicco, has partnered his company with the Dylan Ratigan Show to create a series called "Steel on Wheels". This series will promote "…a comprehensive program to restore manufacturing and create jobs by replacing our aging infrastructure, achieving energy independence and enforcing our trade agreements." Should be interesting).
Stay tuned and be careful out there!
Full disclosure: long X call spread and puts, long AKS