I spoke a day to soon on the bearish downtrend on XLI, the SPDRs Select Sector Industrial ETF. A healthy 3% one-day gain sent the ETF hurtling over resistance and into breakout territory.
The next line of resistance is the June high or the "left shoulder" formed in late May/early June, depending on your perspective. Given the high volatility in the market, every break out (or break down) is subject to a swift reversal, so I am not changing my bearish posture on XLI just yet. But a jump over $30.50 or so would position XLI for an extended bullish run.
Thursday's surge was led by some of the largest components of XLI: United Technologies Corp. (UTX), United Parcel Service Inc. Cl B (UPS), 3M Co. (MMM), and Boeing Co. (BA). The stocks of all these companies are moving in break-out patterns similar to XLI. At the highs of the day, UPS conquered its June high, only to pull back under it. MMM looks the most promising as it reported strong headline earnings:
"…3M said its sales improved in all businesses and geographic regions…Sales growth remained strongest in emerging economies, where sales grew 38%, returning to levels not seen since the second quarter of 2008."
MMM also increased earnings guidance for FY10 to $5.65-5.80 per share. Analyst consensus was pegged at $5.63. MMM is also at its highs for the month, back over its June highs, and has formed an UPtrend from its June lows. Although MMM is just flat for the year, it is one of the better looking charts around, especially amongst the big-cap industrial companies.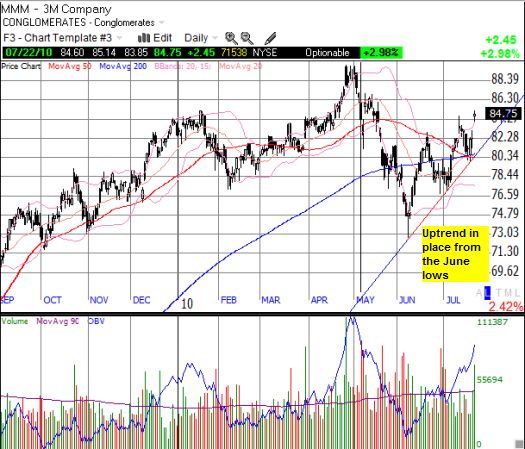 *
All charts created using TeleChart:

Be careful out there!
Full disclosure: long XLI put spread