I continue to read that the Swiss franc has been gaining on the euro because of the euro's weakness. This observation appears correct when reviewing the euro's slide against the dollar since early December (EUR/USD) and the parallel appreciation in the franc versus the euro (EUR/CHF). Yet, the euro has essentially stabilized versus the dollar over the past month while the franc has slowly but surely appreciated to one-year highs (lows on EUR/CHF).
This daily chart shows the euro's recent stabilization: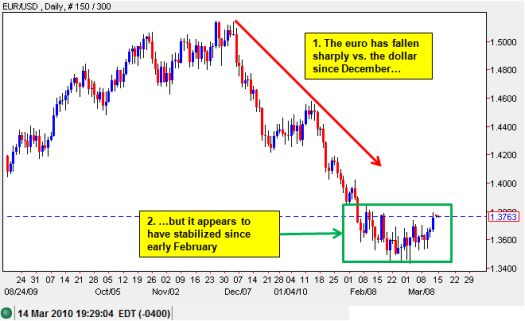 Source: dailyfx.com charts

Moreover, repeated attempts by the Swiss National Bank (SNB) to devalue against the euro during the past year have encountered fresh buying of the franc. The daily chart below shows how each major spike upward in EUR/CHF has merely preceded further weakness in the currency pair.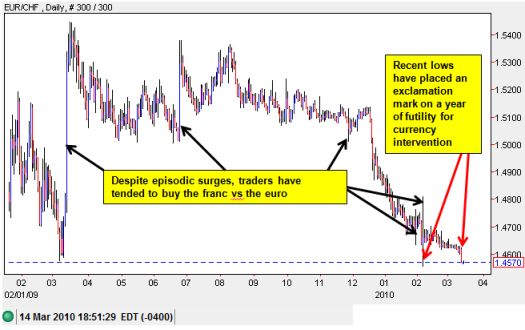 Source: dailyfx.com charts

In its last monetary policy assessment on March 11, 2010, the Swiss National Bank (SNB) stated that it "…is maintaining its expansionary monetary policy" and "…will act decisively to prevent an excessive appreciation of the Swiss franc against the euro." The SNB did not acknowledge the on-going futility of these efforts, but it did reference the inflation rate as an imminent constraint to its expansionary monetary policy:
"…in the fourth quarter of 2012, inflation attains 2.75%. Consequently, the inflation forecast shows that the current expansionary monetary policy cannot be maintained throughout the entire forecast horizon without compromising medium and long-term price stability."
To me, this language suggests that the SNB is preparing to retreat (reluctantly!) from its policy of currency manipulation. If so, I assume that any subsequent interventions will occur on a very large scale; otherwise, there will be no point in trying as inflation bears down on the SNB, and the currency markets continue to resist its devaluation program. So, given the apparent stabilization in the euro, and the prospect of a few more large future interventions, I am positioning long in EUR/CHF…for now.
Be careful out there!
Full disclosure: long EUR/CHF, long USD/CHF