Ever since I speculated that the market had finally reached a (near-term) top in January, I have been tracking signals confirming this top. Every once in a while, I stumble upon a significant stock that flashes a contrary sign and gives me pause. Cummins, Inc. (CMI) is a company with such a stock.
Cummins, Inc. has a market cap of $11.2B, and it is "…a corporation of complementary business units that design, manufacture, distribute and service engines and related technologies, including fuel systems, controls, air handling, filtration, emission solutions and electrical power generation systems." The company reported excellent earnings in early February and even raised revenue guidance for the year to $11B vs. the $10.2B consensus. CMI cited robust business conditions in China, India, and Brazil as prime drivers of future growth. The market responded sending CMI up 8.8% on the day. CMI has continued to far outpace the S&P 500 and is now up an impressive 24% for 2010.
CMI is one of the many cyclical stocks that soared to fresh 52-week highs and double-digit gains within the first two weeks of 2010. CMI is now one of the elite cyclical stocks to both maintain a positive post-earnings reaction and print fresh 52-week highs from the previous earnings cycle. This move is all the more impressive given valuations are stretching historical norms. The research staff at "The Razor's Edge" provide a glowing report on CMI but warn:
"…price-to-cash earnings has normally been between 5.1x and 13.0x, but it is currently nearly 17x. Also, price-to-sales per share has ratcheted up to .85x, meanwhile over the last ten years it has normally been between .32x to .78x."
CMI is now priced 10% higher. If CMI's run continues at these levels, I will interpret the action as a bullish sign for cyclicals and an indicator that buying power in the market may be strong enough to give the current highs a good test on the major indices before the next earnings cycle in April.
The chart below shows the current bullish set-up on CMI: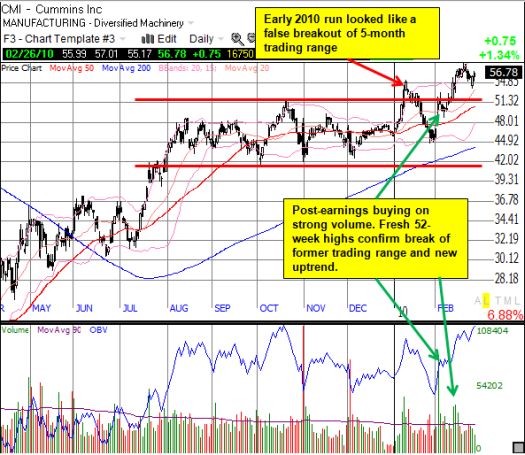 *Chart created using TeleChart:

Be careful out there!
Full disclosure: no positions