Now we know the source of some of this week's selling pressure in First Solar's stock. Michael Ahearn, former CEO and current Executive Chairman, dumped $142.1M in company stock between the 22nd and 24th. He sold another $20.7M on the 25th and 26th.
However, the good news is that on Friday two First Solar (FSLR) executives stepped up to the plate and BOUGHT shares, the current CEO and an EVP. While FSLR made no official announcement of Ahearn's earlier sales, the company was prompt in announcing the insider purchases alongside Ahearn's second set of sales. Here are the buyers and their total purchases along with links to the SEC form 4 filings:
T.L. Kallenbach (EVP, Marketing & Prod. Mgmt.): $103K
Robert J. Gillette (who just recently joined the company as its new CEO): $1.05M
For good measure, FSLR noted that it remains confident in its guidance. There has been some analyst chatter predicting FSLR will have to reduce guidance later this year given its uncertainty about business conditions in the second half, and numerous analysts downgraded or reiterated negative ratings in the aftermath of last week's earnings.
"First Solar's management team has confidence in the 2010 financial guidance we gave on Feb. 18 as well as the company's prospects for long-term growth…We continue to execute on our technology and strategic roadmaps and are making significant progress on our goal to make photovoltaic solar generation competitive with fossil fuel sources of electricity."
Last May, I cited massive insider selling as one of several reasons to short FSLR; it was selling above $190 at the time. This time around, I am thrilled to see executives finally buying shares as I shed most of my protective puts into all the post-earnings selling. I suspect there should be some rapid and sharp short-covering on Monday morning given the massive and record short interest in FSLR and the heavy negative sentiment.
Here is a review of the current bullish technical set-up on FSLR: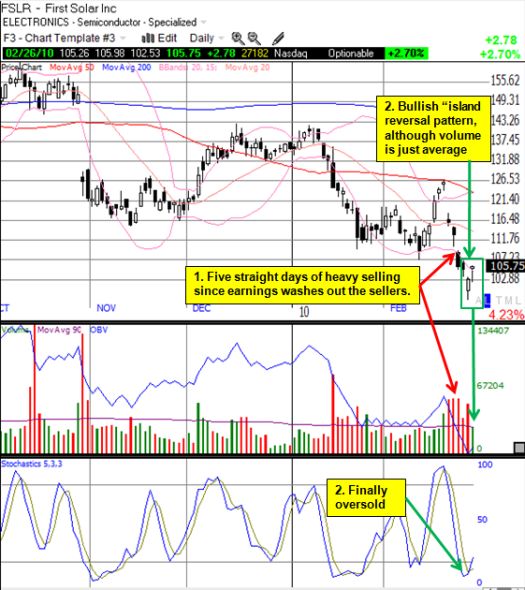 Note well that I remain extremely cautious on the solar sector in general especially now that TAN, the Claymore/MAC Global Solar Energy ETF, finally broke down below a 9-month trading range. The selling in FSLR certainly greased the skids.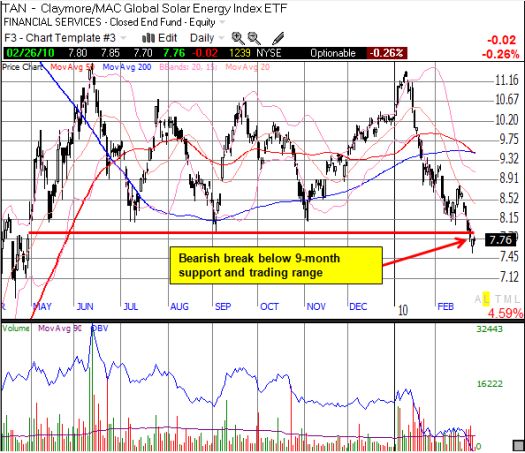 *All charts created using TeleChart:

Be careful out there!
Full disclosure: net long FSLR