At the end of December, I suggested that the post-earnings trading in U.S. Steel (X) and Nucor (NUE) would be explosive based upon stealth rallies from the November lows that occurred despite a strong accumulation in puts and shorts on those stocks. On Tuesday, both steel companies delivered disappointing earnings that included cautions regarding continued weakness in end-user demand and fragile economic conditions.
The losses in X have been explosive indeed. In direct response to earnings, U.S. Steel dropped 12% with volume soaring over 2x the 3-month average – single-day volume was last this high in April of last year. The stock dropped another 6% the following day on even higher volume. X has dropped 31% from its closing high made just two weeks ago. The chart below summarizes the recent trading. It looks like the top is in for X, but the selling could also be reaching a crescendo. I have gone long in anticipation of a bounce back to the 50-day moving average (DMA).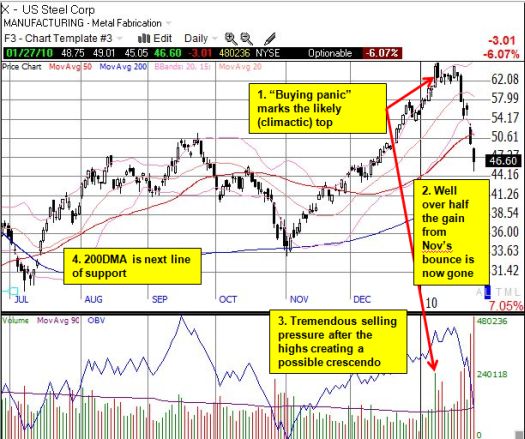 U.S. Steel provided a detailed summary of its outlook for the business. U.S. Steel had cash flow of -$61M in 2009, but it still holds $1.2B in cash. Overall, the company remains cautiously optimistic about its prospects:
"While we are becoming more optimistic, primarily due to improvements we are starting to see in the manufacturing sector, we remain cautious in our outlook for end user demand."
I also took note that U.S. Steel may soon seek long-term funding for making significant capital improvements. This possibility could have added to the selling pressure if traders and investors are anticipating a secondary offering of stock. The company currently estimates $510M for capital improvements in 2010.
The losses in NUE have not been explosive, but it has also given up well over half of its rally from the November lows. The rally ended at the highs from September, and the break below the 50DMA and the 200DMA makes NUE a short candidate with the November lows providing the next line of support. This support also happens to be the lower part of a 10-month trading range (NUE is also still trading at levels from 16-months ago).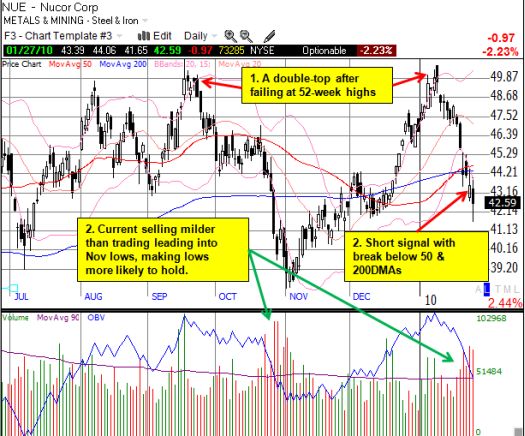 *All charts created using TeleChart:

Dan DiMicco, the CEO of Nucor, makes what seems to be a quarterly appearance on Jim Cramer's Mad Money. The video below represents a good summary of NUE's fragile business conditions and outlook (note it is peppered with political commentary).
DiMicco made it clear in the interview above that he remains bullish on his own company. Here is a snippet of what he said during the earnings conference call (from Seeking Alpha's transcripts):
"…we are currently presented with a large number of attractive opportunities for growth by optimizing our existing operations and growth by commercializing these new technologies. That is exciting to us…The bottom line is that Nucor has the right people with the right assets and the right strategies to continue rewarding our shareholders with attractive long term returns on their valuable capital."
DiMicco's macro outlook remains tepid, but he did not reiterate last quarter's warning that "the segment of the economy we serve is not improving":
"Looking to the first quarter, economic steel market conditions remain extremely challenging. American Iron and Steel Institute's industry, capacity utilization rate year-to-date through January 23, was 64%.

Our view remains that real demand is in for a long, slow recovery. Very serious structural balances that created this economic crisis will take time to fix. Our nation worked years, not decades, digging in these deep holes we are in today. Excessive leverage resulted in credit bubbles not efficiently in this consumption.

Mercantilist trade abuse that's in the lack of a balanced, common, sense energy policy resulted in massive trade deficits. There are no quick fixes. No matter how much we wish for them. If it's clear the previous short term sugar high approaches have failed and the ROLE failure of new economies, services don't make things approach is now proven complete in its devastation and stupidity."
Be careful out there!
Full disclosure: long X