Today, Google (GOOG) closed above $600 for the first time since January, 2008. This milestone places the stock right at the minimum price target I estimated for the GOOG post-earnings trade. With a month remaining before January options expiration and the stock market stuck on "cruise control" for now, I believe I have much more than a 50/50 chance of closing out the January 600/610 call spread at or near full value: GOOG needs to gain another 1.5% to close above $610. The current return on the spread is about 43% which represents excellent leverage compared to the 4.7% gain in the stock since I initiated this latest post-earnings trade.
The chart below shows that GOOG's stock remains very bullish. Price trend remains firmly up. On-balance volume (OBV) is still trending upward and is at its highest level for this rally. Trading volume has even increased a bit in the last three trading days. Pullbacks throughout this rally have been very mild: GOOG tagged the 50-day moving average (DMA) just once (in July) and all other pullbacks have found support at the 20DMA (currently around $590).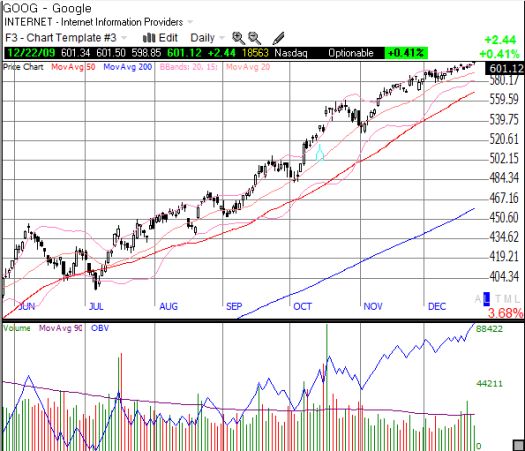 *Chart created using TeleChart:

Be careful out there!
Full disclosure: long GOOG call spread