It has been a very long time since a stock blindsided me, but the sting is no less powerful!
Yesterday, SunPower (SPWR) dropped the AA-bomb – audit and accounting, announcing that:
"…based upon an internal review of its Philippine manufacturing operations, the company believes there may have been unsubstantiated accounting entries made in the first three quarters of 2009, some of which relate to the company's fiscal year ended December 28, 2008."
The review is on-going and SPWR has not yet officially restated results. The company will announce more details in 30 days. As the stock's chart shows below, many investors and traders are not willing to wait out the uncertainty.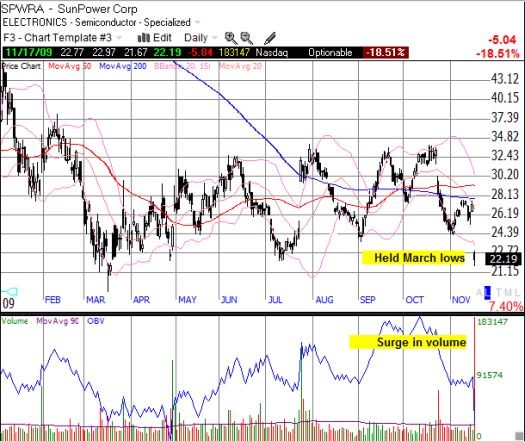 *Chart created using TeleChart:

The only good news here is that SPWR managed to cling to its March lows making the 18.3M volume surge a potential wash-out event. It is also "good news" that SPWR caught this error and promptly notified investors rather than the announcement coming out of an SEC investigation. It provides hope and promise that the company will diligently rectify its accounting problems and, over the longer haul, overcome this mishap.
As noted last month, I started scaling back into SPWR into late October's selling. I am still holding on for now as my implicit worst case scenario prepared me for a retest of March lows (just not in one cataclysmic day!). I will re-examine the thesis if SPWR decisively breaks these lows.
There is one irony here. On Monday, I took advantage of Suntech Power's 12% one-day surge to lock in profits. I did not want to hold through Thursday morning's earnings as I remain a bit wary about the company's accounting practices. At the same time, my SPWR holdings had also flipped back into the green, but I decided to hold because I wanted it to be more than a short-term trade, and I figured the earnings risk was already behind the company.
Be careful out there!
Full disclosure: long SPWRa