The British pound has taken some sharp twists and turns since first hitting 4-month lows against the U.S. dollar on September 28. I have been steadfast in my bearishness against the pound since mid-September, but I have found it necessary to dance in and out of positions given the persistent decline in the dollar against all other major currencies and risks from "news headlines." (Specifically, maintaining short-term trading horizons with tights stops above key resistance levels, re-establishing shorts on breakdowns, and locking in short-term profits).
Two weeks ago, a sharp relief rally began in the pound after Paul Fisher, head of markets and quantitative easing, claimed in an interview that the Bank of England is not directing the pound downward. A week later, the minutes from the last Bank of England meeting seemed to indicate that the BoE was anticipating economic news positive enough to freeze quantitative easing at current levels. In about 10 days, the pound was up 5% against the U.S. dollar – a relatively impressive move as far as currencies go. Not even disappointing U.K. retail sales numbers for September could eat into the gains for long.
However, disappointing GDP numbers DID send the pound on a roundtrip for the week, erasing all gains for the week in one day. (See chart of FXB below for details). Economists had expected to celebrate an end to the recession in the United Kingdom with a Q3 GDP 0.2% higher than Q2 GDP. Instead, quarterly GDP came in negative for a record sixth straight quarter with Q3 GDP declining 0.4%. In the overall scheme of things, this contraction is very small, but the palpable emotional reaction amongst economists and the like to yet another negative reading translated into an immediate and swift decline in the pound.
Speculation now returns to talk that the Bank of England will increase quantitative easing after all. This prospect should weigh on the currency for the coming weeks.
I also find an interesting lesson here in interpreting the advance knowledge of policy-makers. The currency market apparently assumed from the last BoE minutes that bankers either expected good economic data or knew it was coming. The fact that such good news was not forthcoming should instill more caution in drawing straight lines from policy action to future economic data. My take of course is that conditions remain as poor as ever in the United Kingdom (despite record prices returning to the London housing market), and, for the foreseeable future, the pound is likely the only major currency that is at least as bad as the U.S. dollar.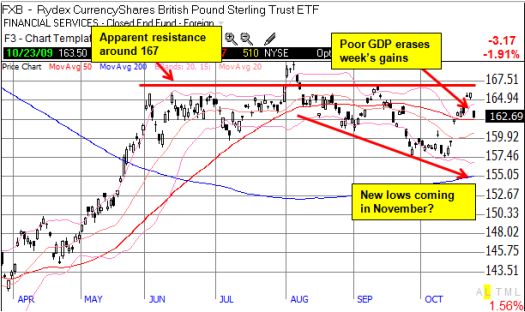 *Chart created using TeleChart:

Be careful out there!
Full disclosure: short GBP/USD