Steel Dynamics (STLD) has steadily rolled out increased guidance over the past few quarters. Last night, STLD increased July's earnings guidance from $0.10 to $0.20 per diluted share to $0.20 to $0.25. This strength has come from orders and volumes in flat-rolled steel and metal recycling. Because STLD has yet to see any impact from government stimulus, I suspect there is room next year for even better performance. Interestingly, non-residential building remains a weak spot. This weakness has been consistently reported across companies that I track that deal with the sector.
Overall, STLD remains cautious: "The outlook for the fourth quarter remains uncertain, as the economy at this point appears to be fragile in its rather slow recovery mode. The most difficult part of our business remains our long-products steel divisions and our fabrication operations whose recovery awaits stronger construction activity. We have not yet seen signs of improvement in non-residential building or gains from government stimulus. Regarding the outlook for flat-roll steel, we believe it will still take a few months to determine if credit markets will continue to improve, allowing consumers to be more inclined to make major purchases, such as demonstrated in the "Cash for Clunkers" program. If on the other hand we begin to see steel and finished-product inventories building, flat-roll utilization could slow later in the year."
The stock has been stuck in a trading range the past two months right around 2009 highs. STLD has also not yet recovered all its losses from last Fall. STLD remains on my buy list for the next market correction.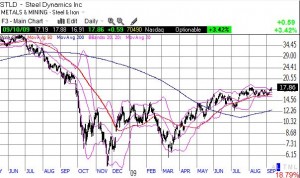 Be careful out there!
Full disclosure: no positions.