It looks like speculators flipped the script to go net long on the British pound (FXB) just in time to catch a peak.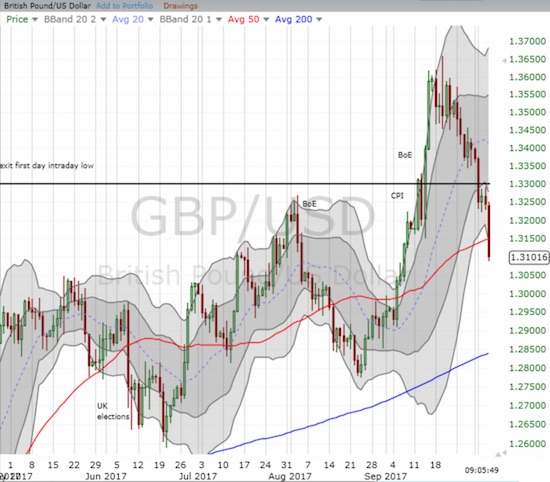 Source: FreeStockCharts.com
As the chart above shows, GBP/USD just broke down below support at its 50-day moving average (DMA). The move looks like an exclamation point following the full reversal of the gains that came in the immediate wake of hawkish talk from the Bank of England (BoE). At the time, I expressed my skepticism about the sustainability of the BoE's hawkishness and by extension the powers of levitation from the British pound. However, this reversal has less to do with the Bank of England and a lot more to do with the gathering strength of the U.S. dollar index (DXY0) and a more precarious political environment in the United Kingdom.
I pointed out the potential bottoming of the U.S. dollar index in late September. The dollar has confirmed that bottoming process by traveling through its upper-Bollinger Band channel after breaking out above its 50DMA.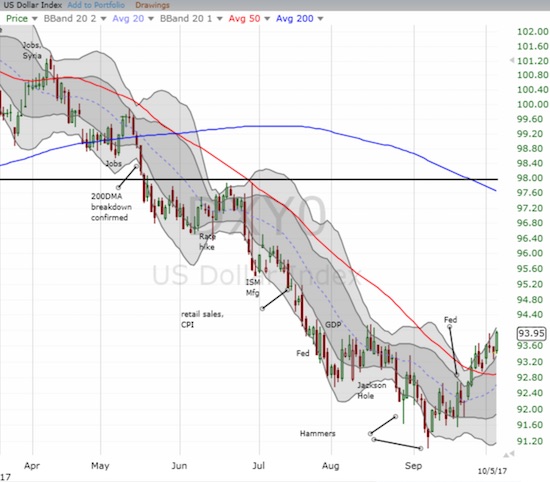 On the political side, UK Prime Minister Theresa May keeps hitting speed bumps after a disastrous call for a snap election that delivered the exact opposite intended results in June. May's troubles found an apt metaphor in an address at her party's annual conference. The speech was marred by mishaps and bad luck.
Now, word is swirling that some members of the Conservative party want May to step down. This turmoil comes just as the UK braces for critical Brexit negotiations with the European Union. May wanted to approach these negotiations from a position of strength. Instead, the ground under May's feet appears to be wavering like the wilting British pound.
Be careful out there!
Full disclosure: short GBP/USD, long and short the dollar across various currency pairs