- July 5th, 2011
(T2108 measures the percentage of stocks trading above their respective 40-day moving averages [DMAs]. To learn more about it, see my T2108 Resource Page.)
T2108 Status: 70% and overbought.
VIX Status: 16.
General (Short-term) Trading Call: Close more bullish trades (longs), initiate new bearish trades (shorts).
Commentary
Today was a strange day. The S&P 500 struggled to hold flat, T2108 stayed unchanged and overbought, European banks sold off, yet speculative stocks were soaring all over the place. Perhaps even more importantly, AAPL broke its 2011 downtrend with a 1.8% surge. Outside of those hot rockets, it was a quiet day by the closing numbers.
Toward the end of the day, S&P dropped another ratings bomb by dropping Portugal's debt to junk status. The market sold off for less than 30 minutes before regaining its composure and closing near the flatline.
I am not sure whether this behavior represents a bearish or bullish divergence in market behavior. That is, either the bulls and hot money made one last gasp before overbought conditions overwhelm the few buyers remaining OR the bulls and hot money demonstrated an early willingness to push the market against the path of strongest resistance.
The latest payroll numbers are coming this Friday. I am thinking it is likely we lack definitive resolution to these marginal overbought conditions until then. This context again suggests this is not yet the time to get aggressive with shorts, but some new shorts should be executed. Longs should continue to get closed out.

Charts below are the latest snapshots of T2108 (and the S&P 500)
Refresh browser if the charts are the same as the last T2108 update.


Daily T2108 vs the S&P 500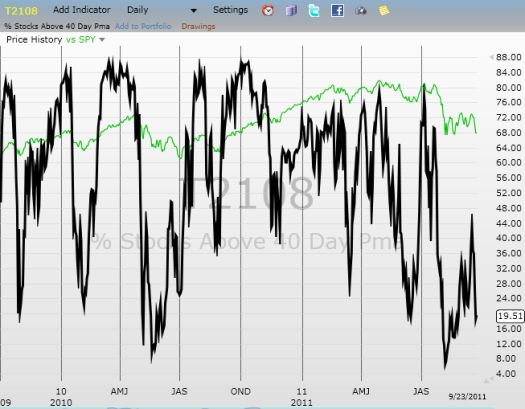 Black line: T2108 (measured on the right); Red line: S&P 500 (for comparative purposes)

Weekly T2108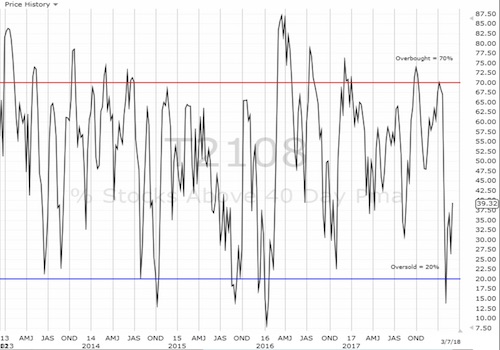 *All charts created using TeleChart:

Related links:
The T2108 Resource Page
Expanded daily chart of T2108 versus the S&P 500
Expanded weekly chart of T2108
Be careful out there!
Full disclosure: long SSO puts, long DB puts
© Copyright 2016 ONE-TWENTY TWO - All Rights Reserved