Dancing with the Stars Review: Kim Gets Back to The Facts of Life
I was admittedly nervous going into Kim's third dance performance on Dancing With the Stars. Kim planned to take things back to days of "The Facts of Life," and I could not visualize how in the world Kim was going to dance while wearing roller skates! Perhaps she had some hidden talents gained from championship level ice skating that I did not realize?! However, in the wave before the commercial break, Kim stood with no roller skates. After commercials, still no roller skates. Kim and her dance partner Sasha Farber stuck to the set, the wig, and the theme song.
This episode was about most memorable years. Kim described the year 1976 when she booked her first gig: the Mrs. Buttersworth's commercial. Kim was just seven years old, newly moved to Hollywood from Harlem. Kim's mother, Chip Hurd, described the audition as extremely competitive. The field included Janet Jackson! Kim was so intimidated, she retreated to the bathroom and asked Chip to take her home. Chip invoked a faith in God, took Kim back out, and the Harlem competitor came out of Kim and won her the role.
Charlotte Rae, Mrs. Garrett from "The Facts of Life," added that Kim was so young and so short that she was put into roller skates so that she could fit in the picture with the rest of the cast. I am sooo grateful the television production crew decided to be creative instead of looking for another cast member! Ms. Rae is now the shortest of the crew standing only 4'7″. She proudly declared that she is "still above ground." Go ahead Ms. Rae!
During the clips of practice, we were treated to glimpses of accomplishment rather than the typical fair of trial and despair. Kim described this dance as a "thank you" to fans.
The dance was a foxtrot and was choreographed for great execution, and Kim delivered. She smiled proudly through the entire dance, measuring each step and arm movement.
The dance started with Kim entering the storied door of her boarding school.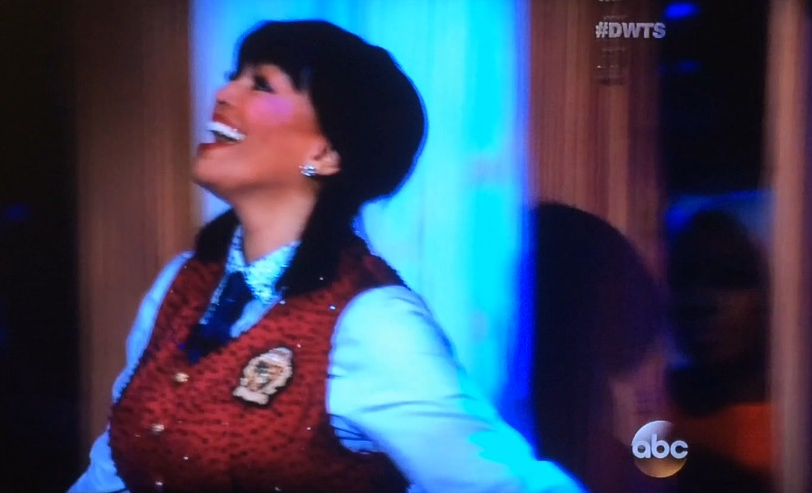 Sasha stood waiting for her with a broad, warm smile and arms open just as wide. Like magnets, the two linked up in front of the living room couch, faced the audience, and then spread the opposing arms wide in a symbolic welcome to a wonderful celebration of Kim's days as Dorothy "Tootie" Ramsey…sans skates!
It was Kim's grace in full action and the judges rewarded her with her highest combined score of the competition of 22.
Judge Carrie Ann Inaba
Carrie Ann started off by complaining that it is not fair Kim still looks like her younger self with the wig on.
She noted that Kim and Sasha pulled off a difficult feat by dancing like they are wondertwins. The two have different body styles and have different backgrounds of music. Carrie Ann concluded by calling them the "A-team" for pulling off this combination so well. Score: 8
Judge Len Goodman
Len came right out with compliments. He called the performance maple syrup: smooth and tasty. Kim burst into excitement at the description. Her jumping and hollering drowned out whatever additional compliments Len had for her! Len could not contain his own smile. See – Kim is infectious! Score: 7
Judge Bruno Tonioli
Bruno caught the infection and jumped up and down in his seat, squealing like a little girl. All in good fun of course! Bruno said Kim "got the fun of it all." Bruno was particularly impressed by the content of the dance. He could highly recognize the foxtrot. He was the only judge to provide some critique. He asked Kim to remember to keep her neck and head up like "diva time." He wants no more turtle neck as Kim's dance proceeds. Score: 7
In the post-dance interview, DWTS showed one more clip of Charlotte Rae. It was an odd moment to hear Ms. Rae reveal that when Kim was younger on the set of "Facts," Kim was full of "piss and vinegar." Huh?!? Little Kim Fields?!?! Where did THAT come from? Do tell more! Sasha was understandably at a loss for words when he was asked to further support that observation. Struggling to come up with something, he promised we will find out NEXT week. We may never know…
So, here is YOUR chance to give your own score for Kim. It is too late to send in your vote to the show, but you can rate her here in THIS poll.
The polling will stay open until Sunday, April 10, 2016, right before midnight.

[poll id="4″]

For the next episode, you can tweet your vote for Kim's next partner in the "switchup" round. Tweet using the hashtag #dwtsswitchup. I am thinking I will vote for #kimkeo.
In the future, you can vote for Kim in THREE ways…
Call: 1-800-868-3406 AND go online at ABC.com (account required) AND Facebook. Need help? Read the FAQ.
I hope you liked my @DancingABC routine inspired by #TheFactsOfLife! Thank you all xo 😘 #DWTS #TeamKimsha pic.twitter.com/9YPQqIZTFZ

— Kim Fields (@KimVFields) April 5, 2016