Dancing With the Stars Review: Kim Fields Exits Episode #7 On 9s
Wow. Well, @DancingABC was an absolutely amazing experience that I will treasure. Only the beginning… Thank you for all of your support.

— Kim Fields (@KimVFields) May 3, 2016
Kim's best dance performance yet on Dancing with the Stars went sadly unrewarded. Episode #7's Icon Night ended with a double-elimination that snatched up Kim. I am very happy Kim made it through 7 episodes, but I KNOW she deserved more!
Consistent with all the other episodes, Kim performed near the top of the show. In the package, DWTS flashed back to the previous week where Carrie Ann Inaba criticized Kim for low energy and some mistakes. Kim was salty. She insisted there should have been at least one 9 in her scores. She concluded her question with an "OK" and an expression that said "I'll show you!"
I was honestly surprised when the package continued with an airing of Kim's disgust that we did NOT see during the show last time. Kim said "I'm sick of it." Just in case the audience missed the bitterness, Kim told the interviewer down deep she was pissed off. Well Kim's acting skills were in full effect because none of her disgust showed last week!
The next interview featured with Sasha Farber, Kim's dance partner. He admitted that he was "pooping in his pants" with anxiety over his position at the bottom of the leaderboard and facing tough competition.
The next segment went back to Kim who explained her personal connection with the song chosen for the Samba: "ABC" by the Jackson 5. In the Facts of Life, Kim played the leader of Jermaine Jackson's fan club; I remember that episode well because I was kind of surprised that show turned her into a crazed and fanatical fan at one point.
I don't think the show even explained well just why Kim's character Tootie had such a major meltdown! Anyway, back to DWTS, Kim reminded the audience that she was friends with Janet Jackson as a kid and hung around the Jackson family. So, dancing to "ABC" was a special moment for Kim.
You could tell Kim was fired up from the beginning of her dance. She came racing out to the top of the stairs so hard that she began a bit off-beat. She quickly re-calibrated and stepped right into another well-executed performance. As usual, Kim proved determined, poised, focused, yet energetic and fun.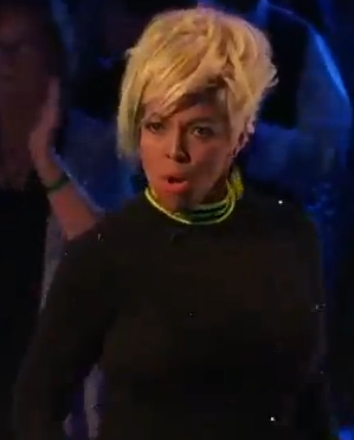 The scene turned into a glow-in-the-dark ambiance that gave a funky look consistent with the dance. When the lights came back on, Kim seemed to burst onto the scene all over again. The dance ended with a spin on the floor and bounce back into Sasha's arms. Kim was really working on nailing the finales, and THIS time was her best yet. It was a fantastic effect and a fantastic performance!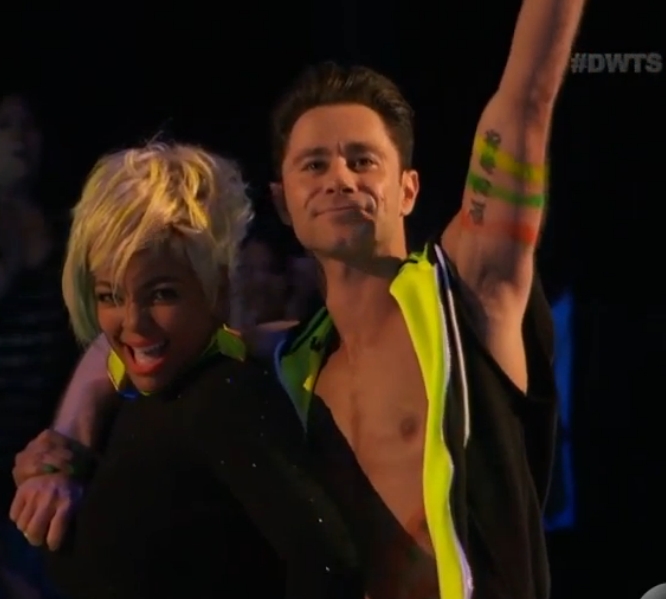 From the size of the cheers and the excitement in the air, you would have never have guessed that Kim was on her way to elimination. Kim could feel the momentum surging in her favor as she pumped her right fist in the air and urged the crowd on. The scores from the judges said STAY KIM, STAY, as well!
Judge Bruno Tonioli
Bruno hopped up to start the judging with a sultry "she works hard for her money, this girl!" Bruno complimented Kim on her glow (of course). He described Kim as "effervescent" and "electrifying." According to Bruno, Kim had the spark of The Jacksons with a touch of the Mary Jane. As he gyrated away, Bruno proclaimed "I want you back!" Oh, if only she COULD come back. Score: 9
Judge Carrie Ann Inaba
Carrie Ann started off by referring to Kim's attitude in the pre-dance package. She claimed she loved seeing Kim get pissed. Carrie Ann notices that when contestants get pissed at the judges, they come out and give their A-game: "You killed that routine from top to bottom!" Score: 9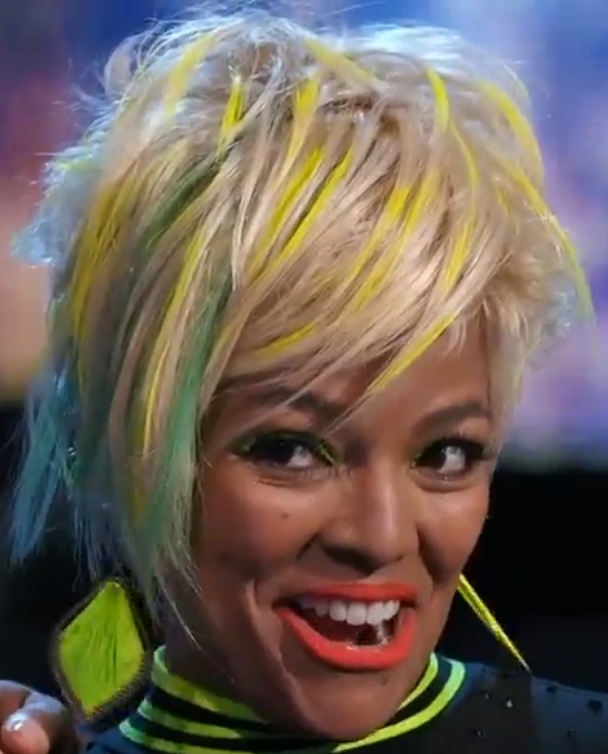 Judge Len Goodman
Len was a bit prophetic when his praise started by acknowledging the uncertainty of a night with double-elimination. Len said what I know everyone thought and felt: "All I can say is that's as simple as A-B-C: that was YOUR best dance! Well done!" Yes, it was Len. Yes it was. Score: 9
Kim scored all 9s – her best score of the competition. I really feel like she deserved to get a vote based on THIS performance but such is DWTS! Before the scores were revealed, Kim told Erin Andrews that her competitive spirit made her go "above and beyond" and "dig down deep and bring it." Kim, it SHOWED!
This Episode of DWTS featured a "boys versus girls" dance-off where the women performed to the icon Beyonce: "Jodie Sweetin & Keo Motsepe, Paige VanZant & Mark Ballas, Ginger Zee & Valentin Chmerkovskiy, Kim Fields & Sasha Farber team dance to 'End Of Time, If I Were A Boy & Crazy In Love' by Beyonce." I was not fond of the transitions from a very fast, up tempo song to a very slow and steady song and back to up tempo again. The changes felt abrupt. The women fell out of sync in a few places as well. Worst of all, I could not track Kim throughout the routine. 🙂 The crew scored 8s from Carrie Ann and Len and a 9 from the always excitable Bruno.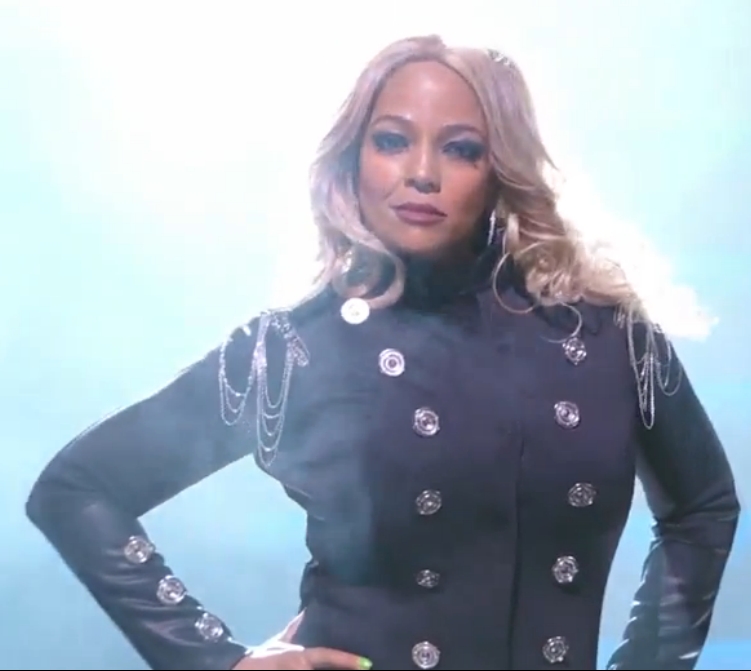 The elimination line-up was nerve-wracking. Most of the contestants and professional dancers were visibly nervous and anxious. Everyone performed so well that anyone could get eliminated. Kim and Sasha were announced as the first couple in jeopardy. Kim remained poised, but I KNOW she had to be screaming in protest inside! Next came Wanya and Lindsey and then Vaughn and Whitney. For what seemed like an eternity, we waited to hear that only Wanya survived the combination of judge scoring and votes. My heart dropped.
I could see on the screen that Kim had not yet processed what had happened. She seemed to expect another announcement, forgetting that she was in double-elimination.
In the farewell interview, Kim was finally starting to lose it. I wanted to cry with her! But she held back the tears and the disappointment long enough to get through to the end of the show. Tom Bergeron called Kim out by pointing out he could tell Kim was not expecting to get eliminated. Kim admitted she did not see it coming and gave her gracious thanks to everyone for the opportunity and the experience.
So, here is your LAST chance to give your own score for Kim: you can rate her dance here in this poll. The polling will stay open until Sunday, May 8, 2016, right before midnight.
Click on the number of your choice and then click "Vote." Note that your button may be gray with the letters grayed out as well…you can still click it.

[poll id="8″]

(Click here for a post-elimination interview with Good Morning America. The interview starts around the 1:25 mark.)
New friend and forever an inspiration Robin!!! pic.twitter.com/SUi8txzX4j

— Kim Fields (@KimVFields) May 4, 2016
With no more voting for Kim who will you vote for going forward? I gave all my votes this week to Wanya Morris. I was SHOCKED to see him put in jeopardy. I sure hope DWTS did that to create more drama. Wanya is a lot like Kim – dedicated, determined, and passionate about succeeding. Go Wanya!