The U.S. Federal Reserve released its latest decision on monetary policy and left interest rates unchanged. There was of course no surprise there. However, the very mention of a future rate hike was treated like new news:
Fed holds rates near zero, but signals possible hike "at its next meeting" https://t.co/vF4pOxlo9p

— WSJ Breaking News (@WSJbreakingnews) October 28, 2015
The market's behavior seemed to indicate broad agreement with this interpretation: the Fed provided some new news about rate-hie timing. However, the Fed really did no such thing. The Fed has emphasized over-and-over that every meeting is a live meeting subject to a rate hike. What changed this time was a very slick selection of words to get expectations back in line with the Fed's desire to keep minds focused on potential rate hikes. Emphasis mine…
"In determining whether it will be appropriate to raise the target range at its next meeting, the Committee will assess progress–both realized and expected–toward its objectives of maximum employment and 2 percent inflation. This assessment will take into account a wide range of information, including measures of labor market conditions, indicators of inflation pressures and inflation expectations, and readings on financial and international developments. The Committee anticipates that it will be appropriate to raise the target range for the federal funds rate when it has seen some further improvement in the labor market and is reasonably confident that inflation will move back to its 2 percent objective over the medium term."
Notice that there is absolutely nothing new here about the conditional nature of the Fed's decision. All that changed is the Fed's explicit notice that it WILL use the next meeting to determine whether to raise rates. Again, the Fed has been using every meeting in recent months to determine whether to rate hikes. The Fed is simply making the action explicit in its wording and actively working to get the market focused on an imminent hike. (Recall my piece "The Simple Calculus for the Timing of The Fed's First Rate Hike" – the Fed will only hike rates AFTER it has convinced the market it will do so).
For now, the efforts paid off. The market is now much more convinced than before that the first rate hike is coming sooner than later.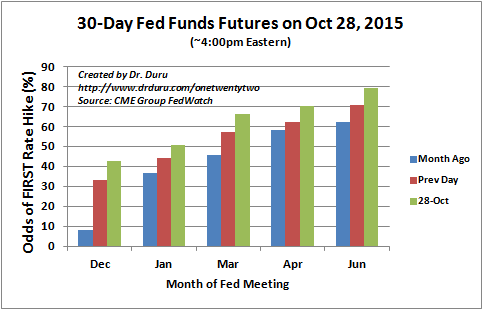 Source: CME Group FedWatch
Accordingly, the U.S. dollar (UUP) rallied and FINALLY broke through the long downtrend from the 12-year high set in March.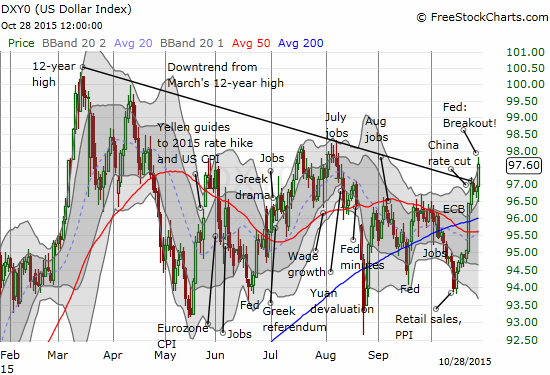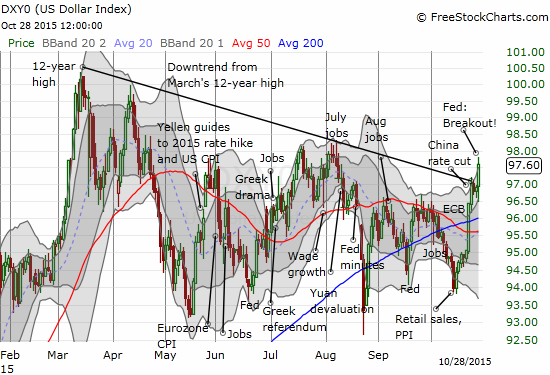 Even the S&P 500 (SPY) celebrated. The index printed a VERY important confirmation of its 200-day moving average (DMA) as support.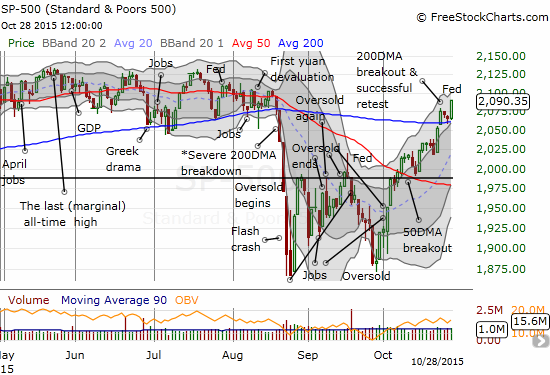 As always, follow-through is important. For now, BOTH the U.S. dollar and the S&P 500 are poised to continue to rally into the Fed's December meeting (no meting in November). The market now enters its seasonally strong period with an odd mix of heightened anticipation of a rate hike, a stronger dollar that had folks worried about corporate profits and exports, and central banks around the globe who are still emphasizing easy money policies and are as far way from normalization as a central bank can get.
Be careful out there!
Full disclosure: net long the U.S. dollar