Hulu Fills A 20-Year Gap With Living Single In the Lineup
I credit myself with being the biggest Kim Fields fan on the planet. Yet, there has been a lingering and nagging gap in my fandom that has festered for 20 years: I never saw the series finale to Living Single. Maybe it was some strange unconscious protest because Kim Fields also failed to make the episode (she only appeared in the credits). I cannot even remember now the reason for my big fail, but I sang the praises of Hulu when I found out the streaming platform has brought the entire series to its service!
It's a '90s kind of world. Again. Living Single, the entire series, streams January 11, only on Hulu. pic.twitter.com/yCaVxRzR31

— hulu (@hulu) January 10, 2018
Right after midnight, I rushed to the TiVo box to fire up the final episode. Much to my chagrin, I discovered I will have to wait just a little longer. Only the first episode is available so far. In the screen snapshot below Hulu users will notice that I do not have the option to view all the episodes, only watch (or resume) the first episode.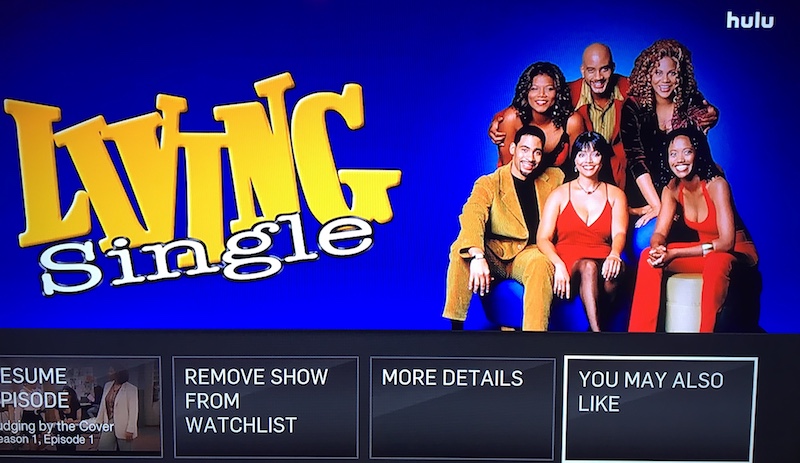 Living Single fans will notice that the Kyle Barker character, played by Terrence 'T.C.' Carson, is oddly missing from the splash screen. I would love to find out why/how this happened. Carson's character was hilarious, and he delivered an entirely (and refreshingly) different kind of Black male character to the television screen. He was truly special!
Anyway, I am eagerly waiting on Hulu to finish uploading the rest of the Living Single episodes, so I can fulfill a 20-year long dream!