(T2108 measures the percentage of stocks trading above their respective 40-day moving averages [DMAs]. To learn more about it, see my T2108 Resource Page. You can follow real-time T2108 commentary on twitter using the #T2108 hashtag.)
T2108 Status: 24%
VIX Status: 34
General (Short-term) Trading Call: Start closing out bearish positions. Otherwise hold. (See below for more details.)
Commentary
Thursday's technical resilience in the face of overbought stochastics and a VIX poised for a bounce melted away on Friday in trading action that represents a definite setback to the rally from August lows. The S&P 500 dropped 2.5% and ended the day right at its last close before T2108 finally broke out of oversold territory. T2108 closed at 24% and managed to avoid dropping back into oversold territory – a minor victory with tenuous support.
If T2108 drops back into oversold territory, I will reinstate all the rules from the oversold period T2108 just exited. The 2011 low will come into focus again; it will become the obvious target for support and the line where market manipulators, uh, makers will attempt to take out stops. As a reminder, I posted the rules for dealing with the lows in the August 19th T2108 Update. For a complete review of the rules for trading an oversold market, see my August 5th T2108 Update.
I sold my position in SDS in the middle of Friday's selling. I also closed out several other bearish positions that I had opened as some insurance in the face of the ominous overbought stochastics. If T2108 closes in oversold territory, I will dump all but my "in case of market crash" bearish positions. In other words, until further notice, I think at a bare minimum traders should hold some out of the money puts in stocks with high valuations (especially high-technology stocks). As a reminder, my two main choices are Amazon.com (AMZN) and LinkedIn (LNKD). I also bought FXF, the Rydex CurrencyShares Swiss Franc ETF. With the Swiss National Bank abruptly backing off its latest aggressive efforts to devalue the franc, traders are "free" once again to pile into the franc. I am expecting another (near) parabolic move in the currency if market sentiment sinks again into abject fear (see trading in early August for an example). Regardless, the upward trend in the franc remains well intact.
To date, I have only posted trades on twitter that I think are most directly relevant to the T2108 trading strategy or some other blog post in which I have discussed trading a particular stock. I do not know how many people have found these posts useful, but if I hear interest in other trades, I will try my best to post those as well.
Finally, note that the S&P 500 is now down 6.7% for the year. Odds are high that the index will close the year in negative territory based on a high correlation between year-to-date performance on the day before the Labor Day holiday and year-end performance (see "2007 Update for Post-Labor Day Analysis").

Charts below are the latest snapshots of T2108 (and the S&P 500)
Refresh browser if the charts are the same as the last T2108 update.


Daily T2108 vs the S&P 500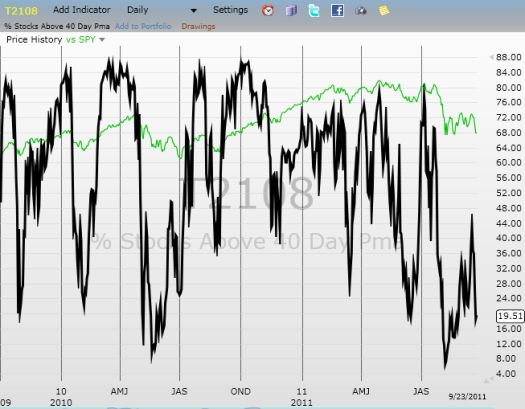 Black line: T2108 (measured on the right); Red line: S&P 500 (for comparative purposes)

Weekly T2108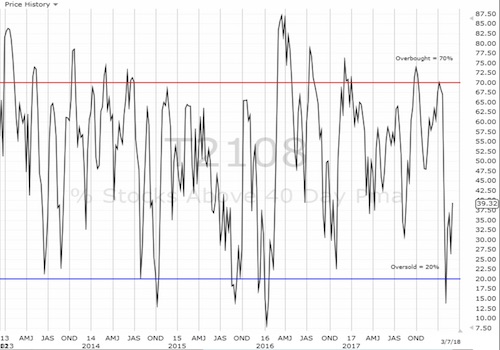 *All charts created using TeleChart:

Related links:
The T2108 Resource Page
Expanded daily chart of T2108 versus the S&P 500
Expanded weekly chart of T2108
Be careful out there!
Full disclosure: long shares and calls on SSO, long VXX puts, long FXF, long AMZN and LNKD puts